September 14, 2023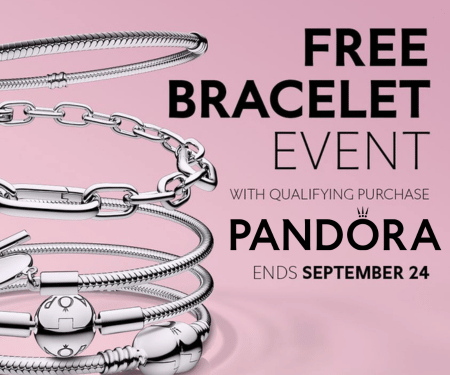 Score a Free Pandora Bracelet
Score a Free Pandora Bracelet: This is not a drill
Hey there, fellow deal hunters! Recently, I stumbled upon an incredible offer that I couldn't wait to share with you all. If you're a fan of Pandora bracelets or looking to start your collection, this is your golden ticket. The best part? It's not about me or my website; I just want to spill the beans on how you can snag this fantastic deal for yourself.
Here's the lowdown: Firstly, Pandora is currently running a promotion that allows you to score a free Pandora bracelet when you spend a certain amount. Now, I know what you might be thinking – "Is it too good to be true?" But trust me, it's legit.
To get in on the action, all you need to do is head over to linked page or visit one of their stores. Now, here's the fun part: Secondly, the more you shop, the more you save! If you spend $135, you'll receive a free bracelet worth up to $95. And if you're feeling a bit more splurge-worthy and spend $180, you'll walk away with a free bracelet worth up to $115.
The key here is to pick your favorite styles from their selection, and don't worry; there are plenty to choose from. This is the perfect opportunity to treat yourself or find that special gift for a loved one. I am picking some up for Christmas gifts.
So, there you have it – a fantastic deal that's yours for the taking.

No gimmicks, no catches. It's all about enhancing your collection with a gorgeous and free Pandora bracelet, and you can't beat that. Finally, happy shopping, and may your jewelry collection shine even brighter! 💍✨
Want more free stuff? Check out our Free Samples Page