September 14, 2023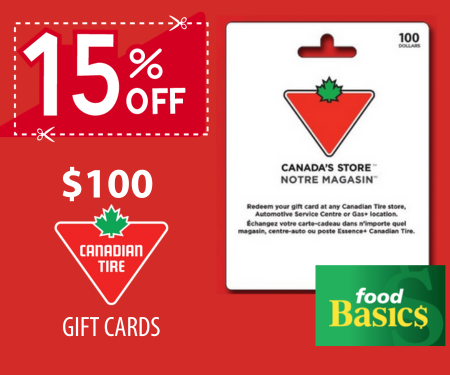 Get 15% Off Canadian Tire Gift Cards
Score 15% off savings on Canadian Tire Gift Cards at Food Basics Ontario! Hey! I've got some fantastic news, I recently stumbled upon an incredible deal that's too good to keep to myself, and I'm here to tell you all the details on how to get 15% off Canadian Tire Gift Cards.
Starting this Thursday, September 14th, through to September 20th, Food Basics Ontario is offering a jaw-dropping 15% discount on $100 Canadian Tire gift cards. Yep, you read that right, a whopping 15% off! Now, let me tell you how I got in on this fantastic offer and how you can too.
Here's the lowdown, imagine getting $100 worth of Canadian Tire spending power for only $85! That's 15% in savings right there, and we all know how handy Canadian Tire is for everything from home essentials to outdoor gear. With the holiday season creeping up, these discounted gift cards make for fantastic Christmas gifts. Imagine the smiles on your loved ones' faces when they can stretch their holiday budget further.
So, you're probably wondering, "How can I snag this awesome deal?" It's as easy as pie. First head to your nearest Food Basics Ontario store. Locate the gift card aisle (it's usually not too hard to find). Look for the Canadian Tire gift cards.

Pick up the $100 denomination, and that's it! You'll see the discounted price at the register $85 for a $100 Canadian Tire gift card. It's a steal, and your wallet will thank you.
Now, remember, it's a limited-time offer from Food Basics Ontario that I just couldn't keep to myself. So, whether you're planning ahead for the holidays or want to snag some extra savings for yourself, don't miss out on this golden opportunity.
Spread the word to your friends and family too because sharing is caring, and who doesn't love a good deal? Head to Food Basics Ontario between September 14th and 20th and load up on discounted Canadian Tire gift cards. Your future self will thank you!
Want more free stuff? Check out our Free Samples Page