September 13, 2023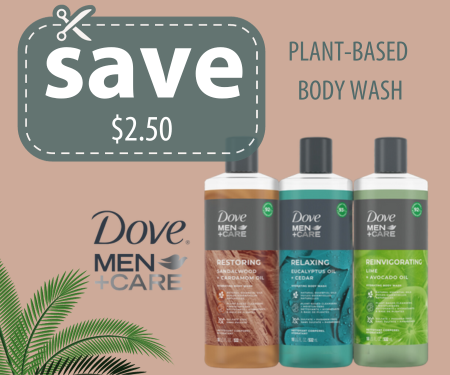 Coupon for Dove Men+Care Body Wash
Want to score a coupon for Dove Men+Care Body Wash? I've got some fantastic news to share with you and you know me how I love new deals. I recently stumbled upon a great offer that I couldn't resist, and I thought you might want in on this coupon to save on Dove Men+Care Body Wash.
You can snag a $2.50 discount on Dove Men+Care 532 ml Naturals Body Wash. Yes, you heard that right! And the best part? It's a plant-based body wash, so you'll be doing something good for your skin and the environment at the same time. But let me walk you through how I got this fantastic deal, and how you can too.
You have two choices, you can either print the coupon right away or opt for the cashback option. It's all about what works best for you. If you choose to print the coupon, follow the simple instructions, and voilà! You've got yourself a $2.50 discount on Dove Men+Care Naturals Body Wash.
But what if you're more of a digital enthusiast? No worries! Opt for the cashback option, and after making your purchase, you can submit your receipt to get your money back.

Easy peasy, right?
Now, let's talk about why this Body Wash is worth your attention. It's not just about the savings; it's about treating yourself to a premium product that cares for your skin while being mindful of nature. With plant-based ingredients, you'll experience a refreshing and eco-conscious shower routine.
So, there you have it, a genuine opportunity to save on a quality product. It's as simple as that! Go ahead, try it out, and enjoy your discounted Dove Men+Care Body Wash. Your skin will thank you, and your wallet will too.
Want more free stuff? Check out our Free Samples Page