April 5, 2023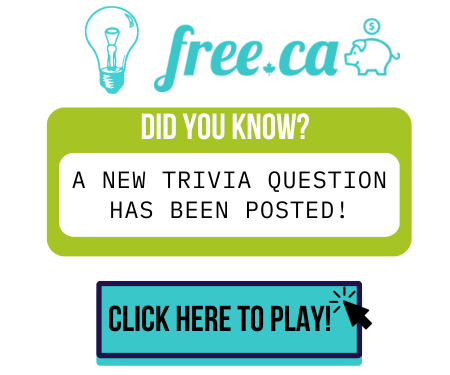 Play, Learn, and Challenge Yourself with Our Exciting New Feature!
Hey there! We've got yet another thrilling announcement for all you trivia buffs and knowledge seekers out there. Free.ca is now introducing Daily Trivia, where you can put your knowledge to the test and have a blast while doing so!
Free.ca's Daily Trivia is all about the love of the game and challenging yourself. It's a fantastic way to learn something new every day and keep your brain sharp and engaged.
Here's how it works:
A new trivia question will be posted on Free.ca every single day.
Test your knowledge and see if you can answer it correctly.
Sign up to receive daily notifications, so you never miss out on the fun!
Daily Trivia is an excellent way to stay informed, learn interesting facts, and have fun with friends and family. Why not make it a part of your daily routine? Challenge yourself, share the trivia with others, and see who can answer the most questions correctly!

Don't forget to sign up to receive daily notifications so that you never miss a trivia question. After all, a new challenge awaits you every day, and you wouldn't want to miss out on the fun and excitement that Daily Trivia brings.
So, are you ready to put your knowledge to the test and embark on a fun and educational journey? Head over to Free.ca/trivia and dive into the world of Daily Trivia. Sign up, play, learn, and have a fantastic time challenging yourself and others. Let the trivia fun begin!