September 18, 2023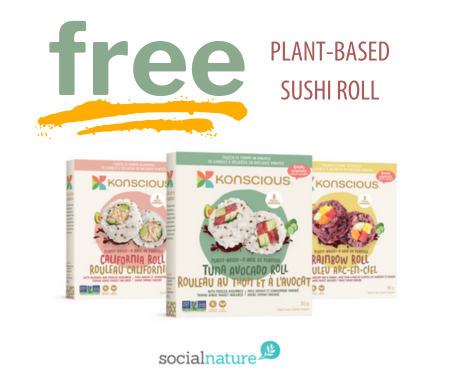 Free Plant-Based Sushi Rolls
Discover How to Score a Free Sample of Plant-Based Sushi Rolls
Are you a fan of sustainable, plant-based cuisine that's delicious and good for the planet? If the answer is yes, you're in for a treat! Social Nature is offering a fantastic opportunity to try out Konscious Foods' innovative plant-based sushi rolls for free. And the best part? You don't have to jump through hoops or spend a dime to savor these culinary delights. I'll show you exactly how you can get your hands on this delectable free sample without any catch.
Konscious Foods, founded by the visionary chef Yves Potvin, is on a mission to revolutionize the way we enjoy seafood. Their approach is simple, create seafood-inspired dishes entirely from plant-based ingredients. With a stellar track record as the founder of Gardein and Yves Veggie Cuisine, Yves Potvin is no stranger to crafting delicious, plant-based fare.
What sets Konscious Foods apart is its commitment to using high-quality, clean ingredients. These ingredients include a medley of fruits and vegetables like tomatoes, konjac, carrots, and pea fiber. But that's not all; they also incorporate cucumbers, avocados, legumes, and whole grains like sushi rice, Jasberry rice, and organic red quinoa. All of their products are Non-GMO Project Verified, gluten-free, 100% plant-based, and organic whenever possible.

It's the perfect marriage of sustainability and flavor.
So, how can you snag a free sample of Konscious Foods' plant-based sushi rolls? It's a breeze! Head over to Social Nature, where you'll find the offer for a free sample of Konscious Foods' sushi rolls. If you don't already have an account, you'll need to create one. It's a straightforward process that takes just a few minutes. Navigate to the Konscious Foods offer and follow the instructions to claim your free sample. Usually, it involves providing some basic information. Once you've claimed your sample, all left to do is wait for your delicious plant-based sushi rolls to arrive at your doorstep.
It's as simple as that! No hidden fees, no strings attached, just an opportunity to savor the future of sustainable seafood.
Remember, the key to a sustainable future lies in the choices we make today. So why not start by enjoying a free sample of Konscious Foods' delectable plant-based sushi rolls? Your taste buds and the planet will thank you.
Want more free stuff? Check out our Free Samples Page