September 18, 2023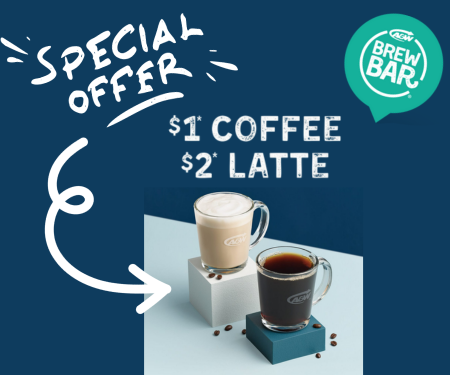 $1 Coffee at A&W Brew Bar
Score a Steaming Cup of Coffee for Just $1 at A&W Brew Bar!
Are you a coffee enthusiast always on the lookout for fantastic deals? Look no further! A&W Brew Bar is currently offering an amazing promotion where you can indulge in a piping hot cup of coffee for just $1 or treat yourself to a latte for only $2, and this deal is available in any size! I'll walk you through how to grab this fantastic offer and make the most of it.
1. Visit Your Local A&W Brew Bar
To kickstart your journey to caffeinated bliss, head on over to your nearest A&W Brew Bar. This deal is available at all their locations, so finding one nearby shouldn't be a hassle.
2. Check the Expiry Date
The $1 coffee and $2 latte promotion is available until October 1st. Be sure to make your visit before this date to take full advantage of the deal.
3. Place Your Order
At the counter, simply place your order for a coffee or latte, specifying your preferred size. A&W Brew Bar has a wide range of sizes to cater to all your coffee cravings, from a quick pick-me-up to a satisfying grande.
4. Enjoy Your Brew
Once your coffee or latte is prepared, find a cozy spot, and savor every sip of your delicious beverage.

Whether you're a black coffee purist or prefer the creamy indulgence of a latte, A&W Brew Bar has you covered.
5. Pair It with a Treat
While you're there, consider pairing your coffee with one of A&W's delightful snacks or breakfast items. It's the perfect way to elevate your coffee experience without breaking the bank.
This deal is as simple as it gets, with no complicated steps or hidden terms. It's a straightforward opportunity to enjoy high-quality coffee at an unbeatable price. And remember, this article isn't about promoting a product or service, it's about sharing an exciting deal that's too good to miss.
In conclusion, if you're a coffee lover, A&W Brew Bar's $1 coffee and $2 latte offer is a golden opportunity to satisfy your caffeine cravings without denting your wallet. Remember to act fast, as this deal is only available until October 1st. So, gather your friends, make a date, and enjoy your favorite coffee at a price that'll make you smile. Happy sipping!
Want more free stuff? Check out our Free Samples Page