September 11, 2023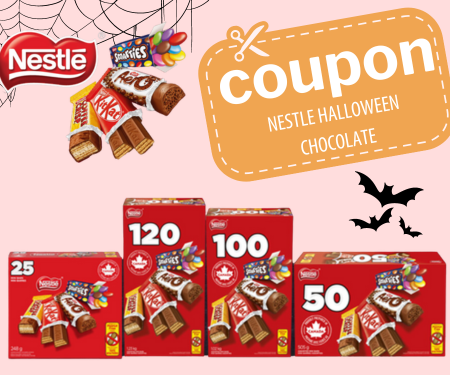 Nestle Halloween Chocolate Coupons Available!
Want to score Nestle Halloween chocolate coupons? Well, Halloween is just around the corner, and you know that means treats, treats, and more treats! And guess what? I have a fantastic tip to help you save some cash on Nestle Halloween Chocolate mini treats using these coupons.
Nestle is making Halloween even more delightful by offering awesome coupons that save you up to $5 on Nestle mini treats. Picture a basket full of your favorite chocolates and candies without breaking the bank. You can join the candy parade with a simple click. Head over to Nestle's website and print them out – it's like printing money, but tastier!
Armed with your coupons, hit the stores and fill up your cart with Nestle mini treats. Think about all those delightful goodies – Crunch bars, Butterfingers, Kit Kats, and more. Don't hold back; this is your Halloween stash, after all. When you're ready to pay, present your printed coupons at the checkout. It's as easy as saying "Trick or Treat." The cashier will scan them, and voila!
So, whether you're prepping for a haunted house party or just looking to satisfy your sweet tooth throughout October, these Nestle coupons are your ticket to Halloween savings.

It's like a little treat for your wallet, and I couldn't resist sharing it with you.
Don't miss out on this sweet opportunity to stock up on Nestle mini treats while keeping some extra cash in your pocket. It's the perfect way to make this Halloween season more delicious and budget-friendly.
Now, go ahead and print those coupons! And remember, sharing is caring, so spread the word and let your fellow Halloween enthusiasts in on this sweet secret!
Want more free stuff? Check out our Free Samples Page