September 11, 2023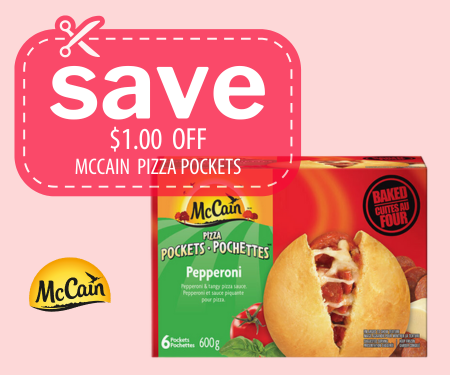 Coupon: $1 off McCain Pizza Pockets
Want a coupon to save on McCain Pizza Pockets? I've got some tasty news to share with you, and it involves a delicious snack that you won't want to miss. You know how much I enjoy good food, right? Well, I recently stumbled upon a way to save some bucks on McCain Pizza Pockets, and I couldn't wait to tell you all about it.
McCain is offering a nifty coupon that'll shave $1.00 off your purchase when you buy one (1) pack of McCain Pizza Pockets (600g or 1.2kg). To dive into these cheesy, pocket-sized delights without burning a hole in your wallet you'll need to print the coupon or request it by mail. With coupon in hand, head to your nearest store or retailer that carries McCain Pizza Pockets. Pick your preferred pack, whether it's the 600g or 1.2kg size – the choice is yours.
At the checkout counter, proudly present your McCain Pizza Pockets coupon. The cashier will do the honors, scanning your coupon and instantly taking $1.00 off your total bill. And there you have it, a simple way to enjoy food at a discounted price. It's not just a snack; it's a snack with a side of savings.
This offer is valid until December 31, 2023, so you have plenty of time to savor those delicious Pizza Pockets while keeping some extra cash in your pocket.
Don't miss out on this appetizing opportunity to enjoy McCain Pizza Pockets without breaking the bank. It's a deal too good to pass up, and I wanted to make sure you knew all about it.
Now, go ahead and snag that coupon!

And remember, sharing is caring, so spread the word and let your fellow snack enthusiasts in on this cheesy secret. Here's to savings and scrumptious bites!
Want more free stuff? Check out our Free Samples Page