September 8, 2023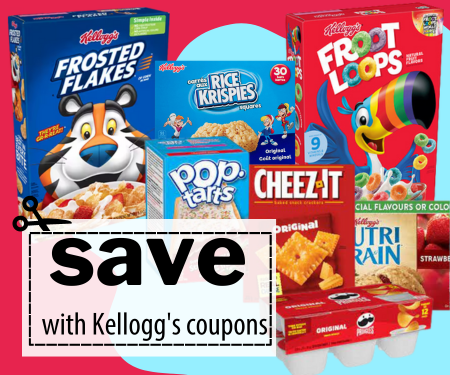 Save on Cereal and Snacks With Kellogg's Coupons
Save on all your favourite cereals and snacks with these new Kellogg's Coupons! I recently stumbled upon a fantastic opportunity to save big on all-time favourite cereals and snacks from Kellogg's, and I thought you might want to know about it too!
Kellogg's is offering a bunch of amazing coupons that can help you cut down on your grocery expenses while enjoying those tasty treats we all love. Whether it's your go-to morning cereal or those scrumptious snacks for your afternoon pick-me-up, these coupons have got you covered.
The best part is, you have different options to choose from when it comes to these money-saving coupons. First off, there are printable coupons that you can find on Kellogg's website or various coupon websites. Just print them out, take them to your nearest store, and enjoy the discounts at checkout.
If you prefer a more convenient option, you can opt for mail coupons. Simply sign up on Kellogg's website and select the coupons you want. They'll mail them right to your doorstep, and you can redeem them hassle-free at any participating store. Kellogg's also offers cashback coupons. All you need to do is purchase the eligible products, take a snapshot of your receipt, and upload it on their website or through their mobile app. They'll refund you a portion of the amount spent on the specified items. It's like getting money back while treating yourself to your favorite snacks.
I know you love saving money as much as I do, and this opportunity from Kellogg's is just too good to pass up. It's such a simple process to get these coupons, and the savings can really add up over time.
Current deals include:
Save $2.00 off Kellogg's Froot Loops Cereal (320-580g)
Save $1.00 off Kellogg's Eggo Waffles and Pancakes (280-330gr)
Save $2 on Frosted Flakes Cereal (425-650g)
Save $3.00 when you buy 2 Kellogg's Special K Bars (125-180g)
Save $1.00 off Kellogg's Nutri-Grain Bars (295g)
Save $1.50 off Kellogg's Rice Krispies Homestyle Bars(198g)
Save $1.00 off Kellogg's Pop-Tarts (384-400g)
Save $1.50 off Kellogg's Cheez-It Crackers (191-352g)
Save $1.00 off Pringles Snack Stacks Potato Chips (12x19g)
Save $0.50 off Pringles Potato Chips (148-203g)
Whether you choose printable, mail, or cashback coupons, you'll be well on your way to enjoying some amazing savings on your next grocery shopping trip, remember these coupons are valid for a limited time only.
I hope you take advantage of this opportunity and save big on your Kellogg's favorites, just like I did.

Happy coupon hunting!
Want more free stuff? Check out our Free Samples Page