Top Fast Food Deals in Canada: June 2019
June 3, 2019, BY Emma Craig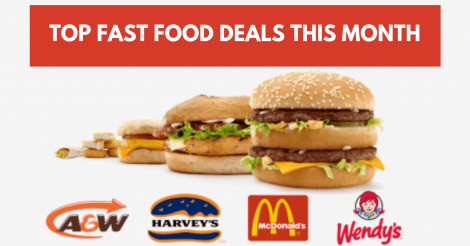 Summer savings are in the air!
Canada's top fast food restaurants including McDonald's, Harvey's, A&W and others are currently running special promotions for the summer months.
We've compiled this list of the top fast food deals in Canada for June 2019.
Check them out and share them with your friends and family to spread the savings!
McDonald's
McDonald's has released many free coupons you can print or redeem on your smartphone. They expire on June 14th.
The coupons include 2 can dine for $11.78, 1 can dine for $6.29, buy one get one free sandwiches, and more. See more details and get your coupons here.
McDonald's also announced a new promotion for $1 vanilla cones all summer long!
Don't forget: McDonald's is also running their Summer Drink Days promotion from until September!
Harvey's
Harvey's has released a coupon for a free pop with purchase of an original burger. Get both for double the savings!
A&W
Like Harvey's, A&W has released 2 great new promotions. They have released multiple printable coupons, and an exclusive coupon for a free root beer! Learn more and get your coupons here.
Wendy's
If you love Wendy's Frostys, you're going to love this offer! Wendy's is currently offering a small Frosty for only $0.99, all summer long!
There is no coupon required, you simply have to show up, order the burger, and enjoy the savings. Click here for more details!
Mary Brown's
Mary Brown's has released a coupon for the month of June.

Claim your printable coupon today and get 15 Pub Style Wings and Medium Taters for only $18.99! Get your printable coupon here.
KFC
KFC has released over 15 free printable coupons that are good until the month of May and part of June!
There are 2 can dine deals, family meal deals, and more up for grabs. Claim your free coupons here!
Taco Bell
Taco Bell has released a printable coupon that is good until the end of June.
The coupon is for Double Layer Taco, Crunchy Beef Taco and Fries Supreme for just $6. Get your coupon here.