Always on the hunt for the latest free makeup samples? Well, welcome to the make up goldmine that is the Sephora Beauty Insider program!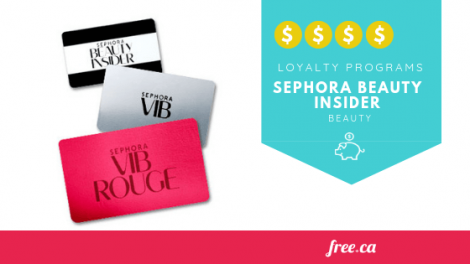 Our Free.ca Community loves free makeup samples and freebies, so we decided to debunk this popular Canadian loyalty program and rank it among our favourite ways to collect rewards.
What Is The Sephora Beauty Insider Program? Plus 2019 Update
The Sephora Beauty Insider program has quickly become one of the most popular loyalty programs in Canada.
Not only are the makeup freebies high-quality, but you often get to test new trends like the latest matte lipstick, coloured mascara, or charcoal face mask from Sephora's almost 300 brands.
2019 Update Details
Last year Sephora announced it was using customer feedback to make some direct changes to the program rewards and tiers in 2019.
"Our aim is to continuously adapt and grow our Beauty Insider program as clients' needs and wants evolve. We are on a multi-year journey focused on raising the bar on client excitement and engagement in a prestigious beauty loyalty program."



Allegra Stanley, VP of Loyalty at Sephora
Here are the new changes and perks to watch for:
Birthday gifts for all three tiers (Insider, VIB, and Rogue)
VIB and Rogue members get to choose a third birthday gift from an online Birthday Boutique of rotating options, like Milk Makeup.
Current and new VIB and Rogue members in 2019 get to choose one of three additional benefits: shareable makeover experiences, extra points, or free shipping. Get more details on the tiers below.
You can get more details on the three tiers below.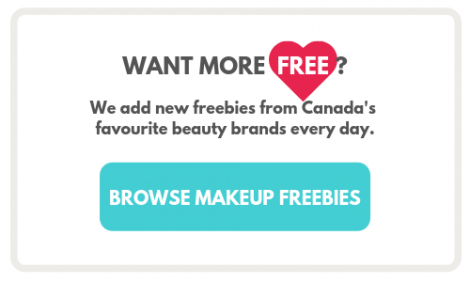 What Do Beauty Insiders Get?
Beauty Insiders get plenty of great perks at Sephora. These perks include:
Earning points you can redeem for free products
Exclusive sales
Trial products and sets with purchase
Free beauty classes at select stores
Are There Different Levels to The Loyalty Program?
The Beauty Insider program is divided into 3 different tiers based on how much money you spend at Sephora in a year. The tiers are:
Sephora Beauty Insider (free to join, no minimum purchase)
VIB ($350 a year)
Rouge ($1,000 a year)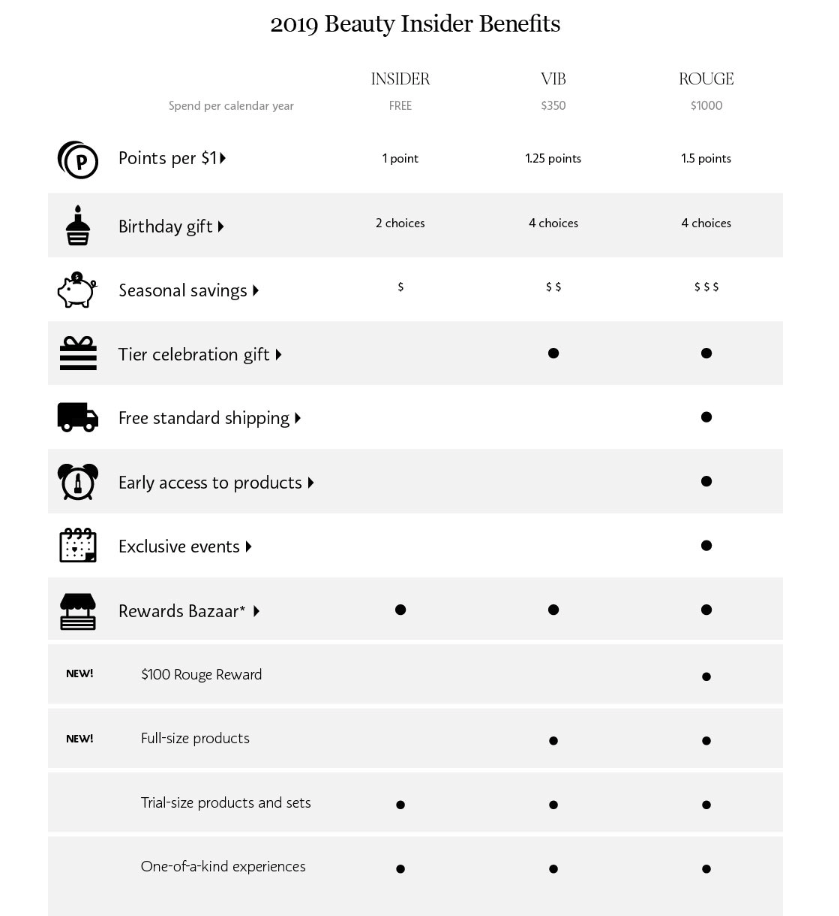 If you meet the minimum spending requirements for the year, you will be automatically upgraded to the next beauty level.
If you do make to the next tier, you will get a tier celebration gift.

You will receive your tier celebration gift choices upon being upgraded.
You can check your account on the Sephora website to see how far off you are to getting to the next tier.

How Do I Earn Points?

You'll earn points for every dollar you spend in-store or online at Sephora. Insiders earn 1 point points per dollar, VIB members earn 1.25 points per dollar, and Rouge members get 1.5 points per dollar.
If you're shopping online, you can log in to your account to ensure you get your points. If you're shopping at a store, you can provide your rewards card or show your barcode on your smartphone.

What do my points get me?

You can redeem the points you earn for free stuff! When you check out, and if you meet the minimum point requirements, you'll have the option to redeem your points for free products.
There are products ranging in worth from 50 points to 1,000 points. If you choose not to redeem your points at that time, you can just choose to keep saving.
The rewards are posted online on the Rewards Bazaar. This Bazaar is updated with new products Tuesdays and Thursdays at 9 am PT.

What is the 2019 Birthday Gift?
One of the best parts about being a Beauty Insider is the free birthday gift! Every year, Sephora releases a free birthday gift that all Beauty Insiders can claim during their birthday month.

All you need to do is join the program and then go to your closest Sephora location one day during your birthday month. Simply mention the gift, show your card, and enjoy!
The free gift changes every calendar year and remains the same for each month. 2019's gift for Insiders is either a Kat Von D lip kit or a Drunk Elephant skincare kit. VIB and Rouge members have additional gift options.
Learn more about the birthday gift here.

Are There Sephora Beauty Insider Sales?
Sephora hosts exclusive sales for their rewards members. The savings vary and are based on the rewards tier. A common sale is 10% off for Beauty Insiders.
Since Sephora rarely has sales, the Beauty Insider sales are very popular.
Are There Sephora Coupons?
Sephora coupons are rare and difficult to find. Sephora will release coupon codes you can use to get free items with purchase online.
These Sephora coupon codes will unlock great trial-size samples when you spend a minimum amount. Often, these coupon codes are only available to loyalty members, so it's just another great reason to sign up.
How Do I Sign Up?
You can sign up for the program both in-store or online. When you join in a store, you'll be given a free rewards card you can use. If you join online, you'll get a digital barcode.
How Do We Rate This Program?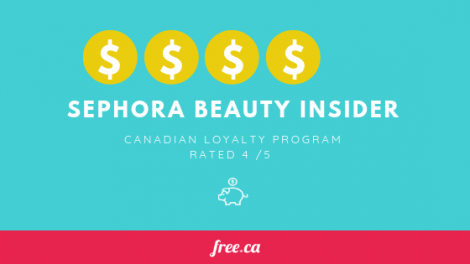 Our Rating: 4 / 5
Why this rating?
The Sephora Beauty Insider is one of the most popular, and most rewarding Canadian loyalty programs.
It comes with a birthday freebie, which is always great. Even at the lowest rewards tier, the birthday gift is multiple free products.
Plus, points can add up quickly, meaning you have lots of opportunities to exchange your points for a free reward.
The tiers might not seem great at first, but for people who actually go to Sephora often and spend a lot of money there, getting upgraded to other tiers for more perks and benefits is a great way to reward loyal customers.
All of this combined with other benefits like exclusive discounts makes it a great program.
We recommend anyone who loves beauty products join this program, even if it's just for the free birthday gift!
Want to browse other rewarding loyalty programs? Check out other great programs we've written about!