Free Tax Software Canada: Pick The Right One For You
March 7, 2019, BY Emma Craig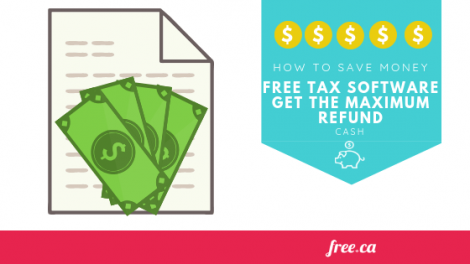 It's that time of year again, tax season. While the process to prepare and file your tax return can be daunting and stressful, there is plenty of free tax software Canada you can use to make the process simpler.

We've included some of the most popular free online tax return software for Canada. Check them out today and see how much they can help you get your maximum return!

Free Tax Software Canada
According to GreedyRates, one of the main things you want to look for in free online tax software is that it is NETFILE approved.

NETFILE allows you to send your tax return directly to the Canada Revenue Agency (CRA) safely and securely. You'll receive a notification when the CRA receives it. Every free software listed here is NETFILE approved.

Most of these free softwares are quite similar and offer the same key features.

If you are self-employed, own income properties, or have any other more difficult tax needs, it may be worth it for you to go with paid software. We break down some of these as well.

Simple Tax

This software has been gaining popularity in the past few years.

SimpleTax
is a 100% free online software.
SimpleTax is:

Easy to use
Will give your maximum refund
Safe and secure
SimpleTax is especially designed to make the refund as simple as possible. The software features:

Simple search features
Step by step guidance
Can auto-fill your return
Refund optimizer for a larger refund
The software will cost you $0 unless you choose to make a donation. Some people make a donation to SimpleTax as a thank you for the software, but that is entirely optional.

There is no paid version or upgraded software of SimpleTax, the software is completely free. So, if you are self-employed, have investment income, etc you can still do your taxes for free. The following softwares require paid upgrades for more complicated income tax returns.

Bonus: SimpleTax can support Quebec tax returns and offers full translation in French!

TurboTax
You've probably heard of TurboTax, it's a very popular software. Like Simple Tax, TurboTax's free software features:

Auto-fill functionality
Maximum refund guarantee
Security
Unlike Simple Tax, TurboTax has free online software they recommend for "simple returns", however, they also have paid tax software.
This chart compares the basic features of each different software and price point, so you can see which is right for you.


There are more specific details about the features of each software that you can find on the offer page.

H&R Block
A similar offering to TurboTax is H&R Block. H&R Block also has free online software for "basic" tax situations and offers paid software as well.

Their free software includes:
Personalized Guidance
Safe, Secure, & Encrypted
Express NOA
SmartSearch
Automatic return optimization
Auto-Fill My Return (AFR or TDF for Quebec)
SmartSwitch
Online Help Centre
ReFILE
You can learn more about the differences between the softwares on the offer page.

Their paid software is currently on promotion and discounted from the regular price, there is no information on when that promotion will end.  

More Money-Saving Tools
Here's the thing: we're super frugal, so we love writing articles like this one. If you enjoyed this article, be sure to check these other money-saving resources: