TJX Style + Card: Exclusive Rewards for Winners, HomeSense, & Marshalls
January 30, 2013, BY Emma Craig
If you're a fashionista, you've probably heard of TJX Style + already. If you haven't heard of this loyalty program but you like to shop at Winners, HomeSense, and Marshalls, you need to keep reading to find out how to save money now!
What is TJX Style + Rewards?
TJX Style + Rewards is the loyalty program for Winners, HomeSense, and Marshalls stores. TJX stands for TJ Maxx, the American chain that now owns all three chains.
Even though this is an American parent company, Winners, HomeSense and Marshalls are some of Canada's favourite fashion and home stores, so we decided to rate them!
What Is the Difference Between The Stores?
Winners, HomeSense, and Marshalls are all discounted stores that sell name-brand products at affordable prices.
They have over 400 locations across Canada and you will often find Marshalls + HomeSense or Winners + HomeSense combination stores where you can shop at both locations at once.
Winners and Marshalls focus on clothing, accessories, footwear, and even cosmetics products.
You will often still find home decor pieces and even some furniture items at a Marshalls or Winners.
HomeSense stores sell furniture and home decor. Their items include bedding, coffee tables, living room and bedroom furniture, cookware, rugs, mirrors, lamps, and a lot more.
Looking to save money on that new dress? Want a discount on those new pillows you've been eyeing? Check out our fashion offers and home decor coupons right here.
What is the TJX Style + Canada Card?

The TJX Style + rewards program works by swiping the Style + loyalty card every time you make a purchase. You can register your card online or in store and then scan it every time you shop at Winners, HomeSense, or Marshalls stores. There is no actual points system with the TJX Style + program, just specific incentives for your loyalty.

How Do I Register My Style + Card?
TJX Style + Card registration is simple and quick. If you get a card while at a store, you need to register your card online with the card number and your shipping/contact information.
If you did not receive a card in store, no worries! You can register online without a card. Simply click the "I don't have a card" button on the registration page and you'll be able to sign up and get a free digital card.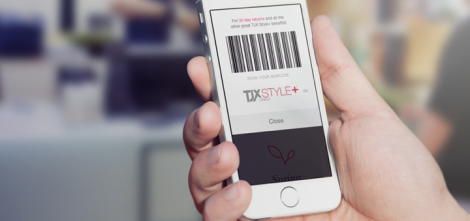 The free digital card can instantly be accessed on your mobile device, so you can scan that app in store rather than using a physical card (if you're into that!)
What Does My Membership Get Me?
Once you've joined the TJX Style + loyalty program, you'll get exclusive members-only benefits including:
eReceipts sent to your email
30-day extended return policy
Notifications on new arrivals to your inbox
Exclusive members-only contests
10% off alterations and dry cleaning at participating Stitch It locations
Some of these perks are fairly basic, but we really like the exclusive members-only contests. For example, this past holiday season they ran a contest where members could upload their receipts online and enter for the chance to win back the money they spent on their purchases. Yay, free holiday shopping!
Like we said before, there is no actual point system in this loyalty program. Upon joining, you get access to the benefits we've listed above and according to the TJX Style + website, the more you shop with them the more benefits you'll unlock.
Want more ways to cut down that shopping bill?
Join Free.ca today to get Canada's most popular free samples, coupons, and contests straight to your inbox. Not to mention some exclusive freebies from the Free.ca team, too!
Our TJX Style + Rating: 1.5 / 5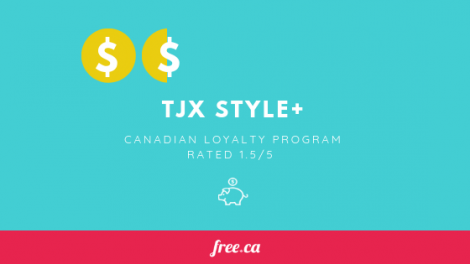 Why this rating?
While we do love shopping at Winners, HomeSense and Marshalls and we're glad there is a program, the benefits are not as great when compared to some of our other favourite loyalty programs in Canada.
The "increased benefits" listed on the site are very vague. Why not tell us what we're working towards or create member tiers?
There are no freebie opportunities or special discounts for members, like special discount days.
Unlike other programs, like PC Optimum and Starbucks for example, you do not earn any points you can redeem for free items.
While TJX sends their members email updates on new items and styles, they do not send them any special discounts or promotions to save money. For example, we'd love to see a BOGO offer paired with each new season's fashions (i.e. buy a pair of sandals for summer and get the second free).
Getting a longer return policy is a definite benefit in our books, but it's not the kind of benefit that would excite most customers. Many people think of a return policy as just good customer service, not a perk.
In our opinion, the most exciting part of this loyalty program are the members-only contests, so keep your eyes on their emails for the next one!
Interested in other loyalty programs and freebies?
Take a look at some of our favourites for Canadians: