Ensure Club Loyalty Program: How to Get Free Coupons
January 22, 2019, BY Emma Craig
You've probably heard of Ensure, one of North America's most popular nutrition and supplements brands, but have you heard of Ensure Club?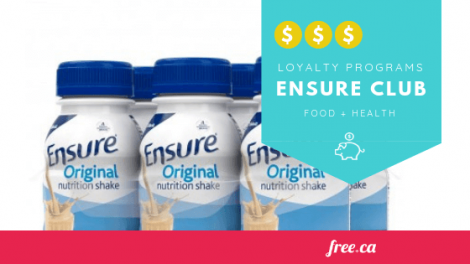 Ensure is owned by Abbott Nutrition and is all about providing "balanced nutrition" for its customers. Ensure Club is their loyalty program that provides substantial discounts and coupons.
Interested? Find out everything you need to know about how to make the most of the program and their products:
What is Ensure?
Ensure beverages are packed with protein, calories, and fiber.
They also meet certain dietary restrictions since they are both gluten-free and formulated as Kosher.
The drinks are made from cow's milk, which means they are not vegan or lactose-free.
Ensure claims the products contain less than 500 mg of lactose per serving and are suitable for most lactose intolerant people.
That's compared to a regular glass of milk, which has 10,000-12,000 mg of lactose per serving.
What is Ensure Club?
Ensure Club Canada is Ensure's loyalty program where they give members exclusive coupons, freebies, and recipes directly to their inboxes.

What Do I Get For Joining?
Signing up for this program definitely comes with some great perks. You'll get up to $100 in discounts and bonuses when you join in addition to nutritional information, meal plans, and exclusive Ensure recipes.
The savings don't stop there, you'll be sent exclusive Ensure offers right to your inbox throughout the year.
How Do I Sign Up?
Signing up is super easy. Simply register on this page, provide your shipping and contact information, then receive your exclusive offers by mail and by email.

They need your address because sometimes samples need to be shipped.
Ensure is the parent company of other popular nutritional brands too:
Similac
PediaSure
Pedialyte
Glucerna
Finish filling in your contact information and if you're interested, check the box to sign up for coupons and offers from these additional brands too.
If you're expecting or recently had a baby, be sure to check out Similac Club. This is Similac's own specific loyalty program that gives new members up to $175 worth of free gifts.
After signing up, your membership is valid for 2 years.
New and expecting parents can also save money by joining Free.ca and browsing our free samples, coupons, and contests to save money on baby products.
What is an Ensure Club Pin?
You will notice that the first question on the signup form is whether or not you have a PIN.
Patients who have been recommended Ensure by a health care professional will have a PIN number in the information packet given to them.
If you do have a PIN, select yes and enter the PIN number.
If you don't have a pin, simply select no and continue to fill in your information.
What Happens After Signing Up?
After signing up:
You'll have the option to refer a friend to the Ensure Club.
To refer a friend, simply fill in their name and email address to send them the request.
This step is completely optional and does not need to be completed.
You'll receive a confirmation request via email within 2 business days after signing up.
Confirm your registration and await your coupons, discounts, and other exclusive offers!
Are there other programs like Ensure Club?
Yes! Ensure Club is one of many great Canadian loyalty programs that can help you save money. Here are a few of our favourites:
Subway MyWay Rewards
Sephora Beauty Insider
WestJet Rewards
Just to name a few! Check out our full list of loyalty programs here.
How Do We Rate This Program?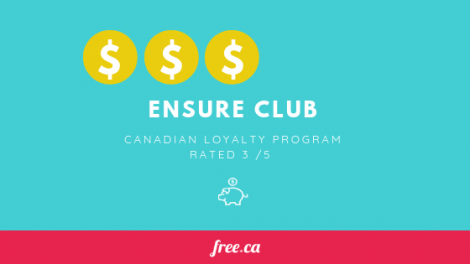 Our Ensure Club Rating: 3/5
We rate Ensure Club 3/5 because it gives $100 worth of savings up front and valuable nutritional tips and recipes, but it does not get a perfect 5 because there is no points system and members need to remember to rejoin after 2 years have passed.
Why three out of five?
We ask ourselves the following 5 questions when we rate our loyalty programs to make sure we are rating them all equally.
1. Is it easy to sign up?
2. Is it easy to earn points and rewards?
3. Are there different ways to earn points and rewards?
4. Do rewards or points expire or have other limitations?
5. Is it worthwhile to redeem points or rewards?
Looking for more ways to save?
Check out our daily free samples and coupons from Canada's favourite brands right here.