Great Valentines Day gifts for him are always tricky to find and men are not always the best at giving suggestions. You may be moaning and groaning at the idea of another gift hunt, but don't worry – we've got you covered.
Whether the man in your life is into sports, video games, movies and TV, or anything in between, our gift idea list has everything from the sentimental to the practical.

You can also check out our post on holiday gifts for men if you need more inspiration!
Valentines Day Gifts For Him: The Ultimate List of Ideas
Stumped for a Valentines Day gift idea for him, look no further! Get started right here:
For The Sentimental Soul
This is the holiday to say I love you, after all. You don't need to shy away from a meaningful gift because you're worried it might come off corny. Go ahead, give them those roses and tell them how much you mean!
What I Love About You
What I Love About You is a fill-in the blank activity book that makes a great personalized gift for your loved one. You can make the book as sweet, funny, and wacky as you and your partner choose.
If this book is too mushy for you and your guy, there are over 20 books in the series with many different titles such as "Why You're So Awesome" and "Why I'm Grateful". There are also books specifically designed for families, moms, dads, grandparents, and best friends.
Get the book and browse other options here.
For The Forgetful Guy
Does your dude often forget things? Like charging his phone? Or his wallet? Are you sick of finding his stuff for him?

This
Smart Desk Organizer
is a desk organizer and smartphone charging station.
Smart Desk Organizer
It has room for:
keys
cell phone
wallet
credit cards
watch
and a coffee station!
The station is made from high-quality birchwood plywood giving it a stylish look. You can order it here.
For The Adventurer
Do you and your loved one have big plans for this year? Is there something you've always talked about doing together? Why not give him this Bucket List Journal and start making real plans to try more things.
Bucket List Journal
You can fill out the notebook with the bucket list item – whether it be travel, skydiving, or anything in between – a category for the item, and the target date by which you wish to have completed it.
This makes a great gift because you can fill in the notebook together and plan exciting things for your future.
Want a bit of help buying your man the perfect present? Browse our sales, coupons, and offers for popular men's brands right here.
For The Guy Who Is Always Thirsty
If your guy loves whiskey or another sipping drink, this is the perfect gift. Whiskey Stones are small stones designed to be frozen and keep your drink cold. The important thing is that they don't dilute the liquor (especially important if your loved one has expensive tastes.)
Whiskey Stones


whiskey
bourbon
scotch
champagne
wine
pop
lemonade
and anything else you enjoy drinking cold!
The stones have no taste or odour and won't retain the flavours of the previous drinks. They come in a velvet bag that you can keep for storage and transportation, so you can take them with you anywhere!
Never worry about stopping for ice again. Check out the whiskey stones on Amazon right here.
For The Star Wars Fan
The force is strong with anyone who owns this Darth Vader toaster – it's definitely an ultimate Valentine's Day gift for a fan. This toaster prints the face of Darth Vader on every piece of bread.
Darth Vader Toaster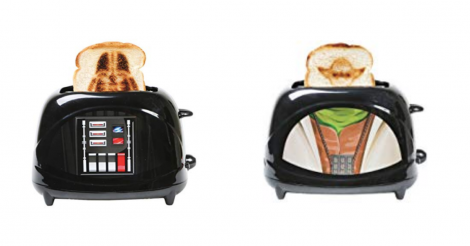 Not into The Dark Side? You can get a Yoda one as well!
For The Breakfast Lover
There's nothing quite like breakfast food. If you're buying for someone who loves breakfast, which is pretty much everyone, get this awesome Hamilton Beach breakfast sandwich maker! It's easy to use and give you delicious a breakfast sandwiches every day.
Breakfast Sandwich Maker

Make the sandwiches using fresh ingredients and they're ready in just 5 minutes.
If the single sandwich maker isn't enough, they also have a double sandwich maker for the couple who breakfasts together.
Are none of these ideas right for your guy? No worries! Check out more Valentines day gifts for him on Amazon. You can also join 
Free.ca for free and get sales, coupons, and samples for male products sent straight to your inbox.
Before you go, we have other great Valentine's Day ideas for you right here: