September 19, 2023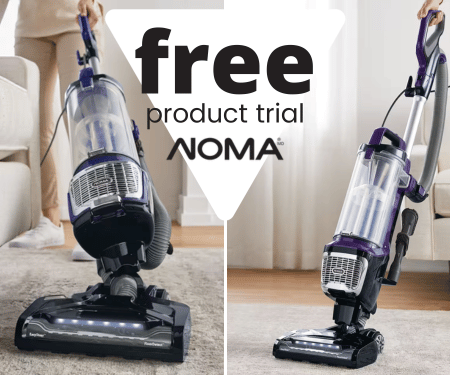 Get a Free NOMA® Vacuum Cleaner
Don't Miss The NOMA Vacuum Cleaners Review Opportunity
Today, we have an exciting opportunity to discuss – a chance to get your hands on a free NOMA® vacuum cleaner for a product review. But wait, before you think this is just another ad, let me clarify: we're not the ones offering this fantastic opportunity. We're here to explain how you can possibly take part in this product review and get your own NOMA® vacuum cleaner for free! As part of this product review NOMA® brings us two exceptional vacuum cleaners designed to make your cleaning routine a breeze:
NOMA SurfaceElite™+ High Power Bagless Carry-off Corded Upright Vacuum Cleaner: This lightweight powerhouse weighs less than 15 pounds, making it easy to navigate stairs and reach tricky spots. It boasts a remarkable 99.97% particle filtration, swivel steering for maneuverability, and an LED headlight for better visibility. Plus, it features an extra-large easy-empty dust cup, so say farewell to disposable bags!
NOMA SurfaceElite™ High Power Bagless Corded Upright Vacuum Cleaner: Another lightweight wonder, this vacuum is equipped with high filtration capabilities and is entirely bagless. It excels at tackling ground-in dirt on carpets and effortlessly cleans hard floors. Additionally, the detachable wand extends your reach by 10 feet, making it ideal for reaching those high or hard-to-reach places.
Now, the big question – how can you be a part of this NOMA® vacuum cleaners review opportunity? It's simple! Your journey begins by completing a short survey, which will help determine your eligibility for this fantastic product review opportunity. Be honest and provide the necessary information to increase your chances.

Show your enthusiasm for trying out one of these free NOMA® vacuum cleaners in your own home. By completing the survey, you're letting them know you're interested in taking part.
This opportunity is open to residents of Canada until September 22, 2023. So, keep an eye on your inbox for further instructions and updates on the product review process. And that's it! No strings attached, no catch – just a genuine opportunity to try out a fantastic vacuum cleaner and share your thoughts with others.
Want more free stuff? Check out our Free Samples Page
Good luck, and happy cleaning! 😊