September 19, 2023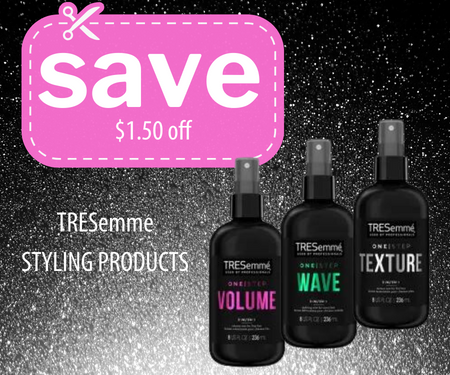 Save $1.50 on TRESemme
Are you on the lookout to save on your favorite TRESemme One Step Soft Styling Product? Look no further! I've recently discovered a valuable $1.50 coupon that can help you save on your next purchase. I'll walk you through the simple process of obtaining and using this money-saving coupon!
Getting your hands on this coupon is a breeze. Here's a step-by-step guide to acquiring it, Visit the website where the coupon is available, and look for the TRESemme One Step Soft Styling Product coupon offering a $1.50 discount. Click on the coupon to select it, then follow the on-screen instructions to print the coupon and ensure your printer is ready to go!
Now that you have your $1.50 TRESemme coupon in hand, it's time to use it! Head to your preferred retail store where TRESemme One Step Soft Styling Products are available. Select the TRESemme One Step Soft Styling Product of your choice, ensuring it is the 236ml size. Present the printed coupon at checkout and there you have it, an easy way to save!
In conclusion, saving on your TRESemme One Step Soft Styling Product purchase is a straightforward and rewarding process with the right coupon. By following these simple steps, you can enjoy the styling benefits of TRESemme while keeping some extra money in your pocket. Happy shopping and saving!
Enjoy the savings on your hair care essentials!
Want more free stuff?

Check out our Free Samples Page