October 14, 2023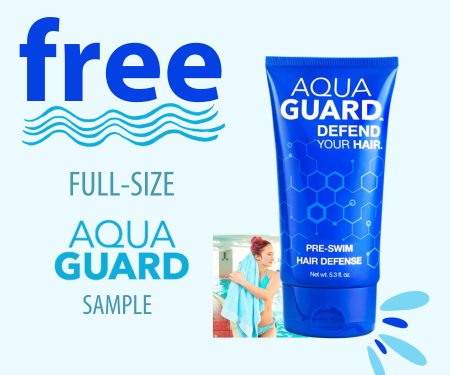 Free Aquaguard Pre-Swim Hair Defense
Dive into Stress-Free Swimming with a FREE Aquaguard Pre-Swim Hair Defense! I've got some exciting news to share with you, and it's not your typical run-of-the-mill advertisement. Imagine being able to enjoy a refreshing swim without worrying about the havoc chlorine can wreak on your beautiful locks. Well, I've found a fantastic offer that will help you do just that, is a free Aquaguard Pre-Swim Hair Defense sample.
Aquaguard is offering a complimentary full-size bottle of their Pre-Swim Hair Defense as a warm welcome gesture. Yes, you read that right, FREE! Now, let me tell you how I got in on this fantastic deal and how you can too.
What is Aquaguard Pre-Swim Hair Defense? It's like a protective shield for your hair, made with natural ingredients like Shea Butter, Almond Oil, and Aloe. Before you take the plunge into the pool, simply apply it to your hair. It works its magic by creating a barrier that stops chlorine damage in its tracks.
Here's what's even more impressive, Aquaguard's protective barrier prevents chlorine from wreaking havoc on your hair, ensuring it stays healthy and vibrant. With Aquaguard, you can kiss green hair goodbye for good! Whether your hair is naturally colored or you've had some help from a salon, this product has your back. It's designed to protect both natural and color-treated hair. Besides shielding your hair from chlorine damage, Aquaguard also works wonders in preventing dryness and brittleness. Your hair will thank you!
Now, you might be wondering, "What's the catch?" Well, there isn't one, but there is a small handling and shipping fee of only $8.

Trust me, it's a steal considering the value of having healthy, chlorine-free hair during your swimming adventures.
So, how can you snag this fantastic offer? It's as easy as pie. Just follow these simple steps:
Click on the link below to head to the Aquaguard website.
Follow the straightforward instructions provided.
Add the Pre-Swim Hair Defense to your shopping cart.
At checkout, use the code FREE-AG to ensure your bottle is on the house (well, almost).
That's it! You're on your way to enjoying chlorine-free, silky-smooth hair during your swims. It's like having a secret weapon against hair damage in the pool – and it's all yours for just $8.
So, if you're anything like me and cherish your hair as much as your love for swimming, don't miss out on this incredible opportunity. Dive into the world of stress-free swimming with Aquaguard Pre-Swim Hair Defense, and you'll wonder how you ever swam without it. Happy swimming!
Want more free stuff? Check out our Free Samples Page