August 10, 2023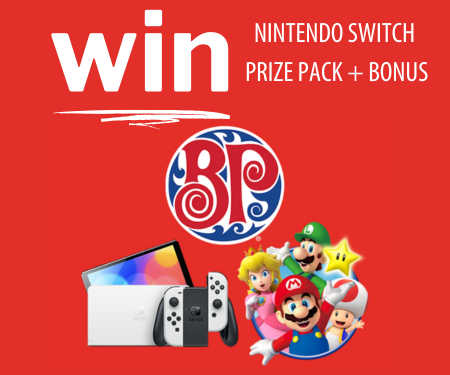 Win a Nintendo Switch Prize Pack + Bonus
Win big with Boston Pizza's Nintendo Switch Prize Pack Giveaway! Hey, gaming enthusiasts, I've got some exciting news that I just had to share with you. Guess what? Boston Pizza is giving Canadians an incredible opportunity to win some seriously awesome prizes. You could be one of the lucky 30 people to win and walk away with a Nintendo Switch prize pack OLED Model system and not just one, but two selected Mario games. How cool is that?
I mean, who wouldn't want to get their hands on a shiny new Nintendo Switch and dive into the world of Mario? To enter the giveaway, fill out a form. Just a few clicks and you could be on your way to being a proud owner of a Nintendo Switch – OLED Model system and two selected Mario games. I know I'm crossing my fingers!
But wait, there's more! When you make your first entry, you'll receive a special code for 100 My Nintendo Platinum Points. What are those, you ask?

Well, they're like little digital treasures that you can redeem for all sorts of cool rewards on the My Nintendo website.
Enter the giveaway, cross your fingers, and who knows, you could be one of the lucky few enjoying the thrills of Mario on a sleek OLED screen. Don't forget to snag those Platinum Points with your first entry – they're like a gamer's dream currency.
Alright, no more time to waste. Get yourself over to that contest page and seize the chance to win big. Trust me, your inner gamer will thank you. Good luck, and may the odds be ever in your favor!
Want more free stuff? Check out our Free Samples Page