August 15, 2023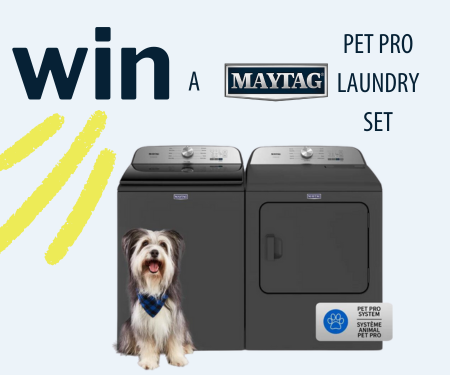 Win a Maytag Pet Pro Laundry Set
Want a chance to Win a Maytag Pet Pro Laundry Set? Let's Get Pawsitive! I couldn't wait to share this exciting opportunity and trust me, it's something you won't want to miss. Imagine winning a Maytag Pet Pro laundry set, it's like a dream come true for pet lovers.
Picture this: cozy nights cuddling with your furry friend, knowing that the Maytag Pet Pro laundry set has your back. Sounds amazing, right? Well, here's how you can make it a reality, there's a contest going on that gives you the chance to win this fantastic laundry set.
First things first, make sure you're following Maytag on Instagram, next up, show some love to your four-legged pals by commenting on your favorite dog or cat emoji. It's a small gesture that gets you one step closer to that laundry set of your dreams, plus, who doesn't love the excuse to sprinkle some adorable emojis into their day?
To complete your entry, sign up for the Maytag Newsletter using the link in their bio. You'll get to stay in the loop with all things Maytag, and who knows, you might pick up some nifty laundry hacks along the way.
The contest is open from August 8, 2023, to August 27, 2023. To be eligible, you just need to be a resident of Canada, over the age of majority in your province or territory of residence (excluding Quebec). Oh, and let's not forget the most exciting part, the prize itself! One lucky winner will walk away with a Maytag Pet Pro laundry set.

Just imagine the convenience and comfort that'll bring to your pet-friendly home.
So, what are you waiting for? It's time to tag your pet-loving pals, share the contest, and join the pawsitive vibes. Remember, with just a few simple steps, you could be on your way to winning that ultimate laundry set. Fingers crossed and paws crossed too!
Want more free stuff? Check out our Free Samples Page