Sweet & Sour Meatballs Recipe
February 14, 2019, BY Emma Craig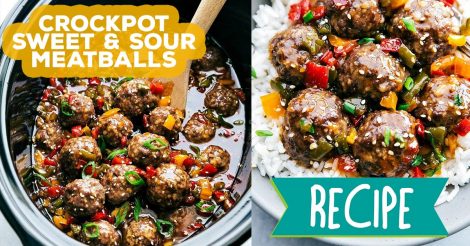 We just love meatballs, and this recipe is an absolute crowd-pleaser!
Ingredients:
2 pounds ground beef 85-15 mix
2/3 cup Panko breadcrumbs
2 tablespoons dried minced onion
1 large egg
1/4 cup coconut milk
1 and 1/2 teaspoons ground ginger
Salt and Pepper
Sweet & Sour Sauce
1 tablespoon canola oil
3 large bell peppers (1 red, 1 orange, 1 green)
1 clove garlic, finely minced
1 and 1/2 teaspoons onion powder
1/2 cup rice vinegar
1/2 cup ketchup
1/4 cup low-sodium soy sauce
2 cups white granulated sugar
1/8 teaspoon sesame oil
1/2 of 1 full (11 oz. can) mandarin oranges, smashed with their juices
2-3 tablespoons cornstarch
1/4 cup cold water
Optional: toasted sesame seeds, green onions, rice for serving
Instructions:
IF USING THE OVEN: Preheat oven to 400 degrees. Grease a 9×13-inch baking pan. 
IF USING THE CROCKPOT: lightly oil the cooking insert. In a large bowl, add ground beef, Panko breadcrumbs, minced onion, egg, coconut milk, ginger, salt and pepper (2 teaspoons salt & 1/4 teaspoon pepper).
Mix with your clean hands until just combined. Rub a little oil on your hands and then roll the meat mixture into 1-inch balls. Place meatballs in the prepared baking pan or slow cooker.

Bake 20 minutes in the preheated oven OR set slow cooker to low and bake, covered with sauce, 3-4 hours.
To make the sauce: In a saucepan over medium heat, add the oil, chopped peppers, and garlic. Sauté until tender, about 3 minutes, stirring frequently. Add the onion powder, vinegar, ketchup, soy sauce, sugar, and sesame oil. Stir to combine and then add the oranges and juice. Bring to a boil.

Meanwhile, stir the cornstarch and water together and then whisk into the sauce.

Bring back to a boil, then reduce heat to medium-low and simmer 10 minutes.
Serve over meatballs with sesame seeds and green onions to garnish. Serve all over rice if desired.
Originally posted on Freebies.com