Slow Cooker Lo Mein Recipe
February 14, 2019, BY Emma Craig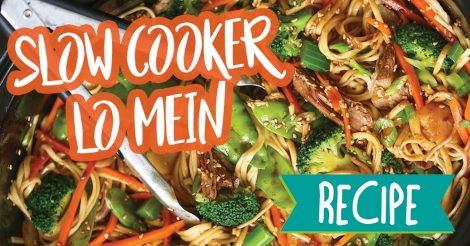 2 pounds boneless pork shoulder
3 cups broccoli florets
2 carrots, julienned
2 stalks celery, diced
1 cup snow peas
1 (5-ounce) can sliced water chestnuts, drained
1 pound spaghetti
FOR THE SAUCE
1/3 cup reduced sodium soy sauce
3 cloves, garlic, minced
2 tablespoon brown sugar, packed
1 tablespoons of sambal oelek (ground fresh chile paste), or more, to taste
1 tablespoon oyster sauce
1 tablespoon freshly grated ginger
1 teaspoon sesame oil
Directions:

Whisk together soy sauce, garlic, brown sugar, sambal oelek, oyster sauce, ginger and sesame oil in the slow cooker. Add pork shoulder, then cover and cook on low heat for 7-8 hours or high for 3-4 hours.
REMOVE pork shoulder from the slow cooker and shred the meat before returning to the pot with the juices. Stir in broccoli, carrots, celery, snow peas and chestnuts. Cover and cook on high heat for 15-30 minutes, or until vegetables are tender.
COOK pasta according to package instructions; drain well.
SERVE pasta immediately, topped with pork mixture.
Originally posted on Freebies.com