No-Bake Mini Egg Cheesecake: Easter Dessert Recipe
March 14, 2019, BY Emma Craig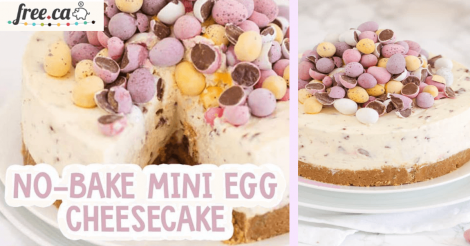 It's already March, and that means Easter is right around the corner. We love the springtime, everything feels fresh, bright, and new. Plus, we get to make our favourite Easter dessert recipes like this Mini Egg Cheesecake.
One of our favourite Easter treats to make is this delicious no-bake Mini Egg Cheesecake. This cake combines 2 delicious treats, sweet Cadbury Mini Eggs, and rich cheesecake.
Gourmet baking does not need to take gourmet skills. You'll be surprised how easy it is to make this picture-worthy cake yourself. It does not need to be baked and uses vegetarian ingredients!
Bonus: we've included more great recipes at the end of this post!
What You'll Need
We'll get into the ingredients later, on but to make this Mini Egg Cheesecake you'll need:
7″ deep tin for the cheesecake
Knife
Ingredients
280 grams of chocolate biscuits
140 g of melted, unsalted butter
360 g of Cadbury Mini Eggs (and an additional 270g to decorate the cake)
550 ml of double cream, and 50 ml to decorate
140 of sifted icing sugar
2 x 280 g tubs of full-fat cream cheese
half a lemon, juiced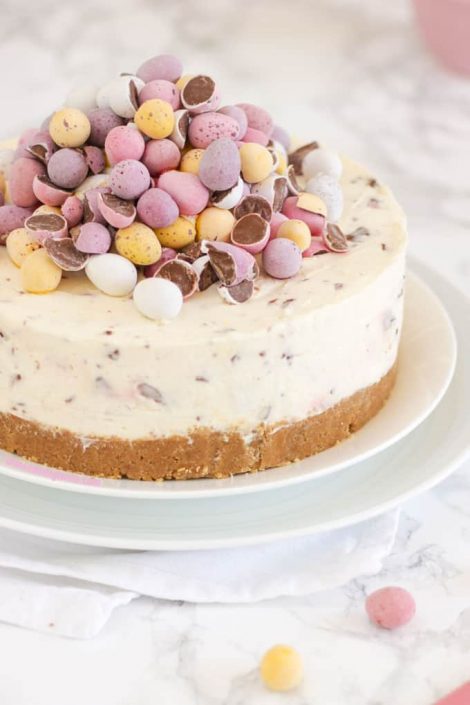 Instructions
Crush the biscuits until they look like lumpy sand (use a food processor if you have one!)
Mix the crushed biscuits with melted butter into the tin
Chop 360 g of Mini Eggs (be careful!)
Combined whipped cream, icing sugar, cream cheese, lemon juice, and chopped Mini Eggs
Smooth the top of the biscuit base and add the mixture
Chill for 2 hours
Use a knife tip to remove the cheesecake from the tin
Add remaining whipped cream on top of the cheesecake and add the rest of the Mini Eggs
This sweet recipe is courtesy of Taming Twins.
Tips and Tricks
Is your cheesecake too runny after chilling for 2 hours? If you have the time, you can chill your cheesecake over night rather for just 2 hours.
If you have a runny cake, put it in the freezer for a few hours before serving.
Get Your Supplies
There's nothing worse than getting down to start a new recipe only to realize you don't have everything you need.
To make things easy peasy, we've added links to the supplies you'll need to make this delicious recipe.
You can easily purchase them now so you won't forget when it comes time to bake.
More Recipes
Why stop the fun at only one recipe?
If you really like to bake, you'll want to try these other amazing recipes we've found:
Have you tried this recipe?

How did it work out for you? Let us know in the comments below!