October 27, 2023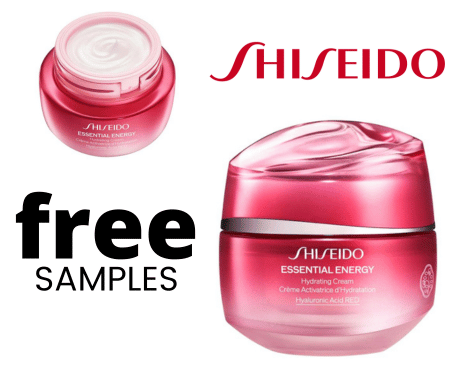 Free Shiseido Samples
How to Score Free Shiseido Samples
I've got fantastic news for you today. If you're in Canada and eager to try out Shiseido's best-selling products without spending a dime, you're in for a treat. Shiseido is currently offering free samples of two of their most beloved items: the Shiseido Essential Energy Hydrating Cream and the Shiseido Ultimune Power Infusing Concentrate.
But hold on, before you get too excited, let me clarify something upfront – this isn't a promotion from my website or me. I'm simply here to share the insider tips on how you can get your hands on these coveted Shiseido samples without breaking the bank.
Step 1: Like/Follow Shiseido on Social Media
Shiseido is all about connecting with its community, and social media is the place to be. Start by liking or following Shiseido on your favorite platforms like Facebook and Instagram. This is where the magic begins.
Step 2: Explore Shiseido's Website
Visit Shiseido's website and take a look at their products. Engage with the content, check out their offerings, and familiarize yourself with what they have to offer. Your interaction with their website matters.
Step 3: Dive into Shiseido's Social Media Content
Now, it's time to immerse yourself in Shiseido's social media world. View their posts, photos, videos, and any other content they share. Your engagement with their social media presence is another key step.
Step 4: Refresh and Scroll Through Your Feed
This is where patience pays off. After following the above steps, refresh your social media feeds and scroll through a few times.

Sometimes, it might take a bit of scrolling and waiting for the sponsored post to appear.
Step 5: Keep Trying
Don't give up too soon. If you don't see the sponsored post right away, wait a while, and try again. Persistence often leads to success.
And there you have it – the secret sauce to snagging those coveted free Shiseido samples. No direct links, no hidden fees, just a little bit of interaction and patience on social media. It's a win-win – you get to try out fantastic Shiseido products, and Shiseido gets to connect with its beauty-loving community.
So, go ahead and embark on this journey to experience Shiseido's Essential Energy Hydrating Cream and Ultimune Power Infusing Concentrate for yourself. It's an opportunity you won't want to miss. Here's a picture of what you'll be looking for: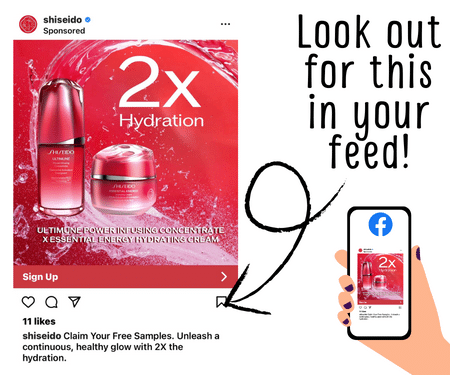 Best of luck, and enjoy your Shiseido samples! 😊
Want more free stuff? Check out our Free Samples Page