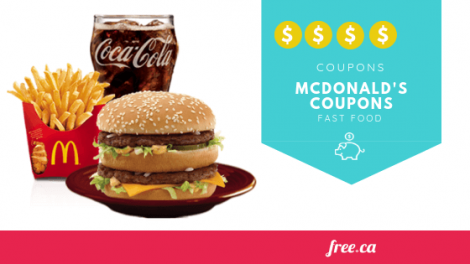 NEW: McDonalds Coupons for Fall 2019 are here!
The new McDonalds coupons are here from August 27th-October 6th!
But I know what you really came here for – the coupons they are serving up this summer:
2 Can Dine for $11.78 (+tax)
1 Can Dine for $6.29 (+tax)
2 Can Dine Angus or Seriously Chicken Meal for $15.28 (+tax)
Buy One, Get One Free (applies when ordering a Big Mac®, Quarter Pounder with Cheese®, McChicken®, FiletO-Fish® sandwich or 6-piece Chicken McNuggets® with a medium or large fries, poutine or side salad)
20-piece Chicken McNugget Meal with two medium fountain drinks and two medium fries for $14.99 (+tax)
2 Can Dine for $8.18 (All-Day Breakfast)
$4.39 Breakfast Meal Deal (Sandwich, Hash brown, and small coffee)
2 McMuffin Sandwiches for $5.00 (+tax)
2 Regular Size McFlurry's for $5.50 (+tax)
$2.00 Off Any Entrée Salad
Claim your McDonalds coupons now, there are 3 ways you can do it:
Check your mail! If you're near a location, you'll probably receive a McDonalds coupon flyer.
Download the McDonalds printable coupons from your desktop right here (remember to select your Province or Territory).
Check your My McD's app! The offers there are usually different from the coupon mailers. (Don't have the app? Here's how to get it.)
Keep reading to find out more about how to save money with McDonalds coupons, apps, and loyalty programs.

McDonalds coupons are some of the most popular free food coupons on our site! We've all been struck by that "I need salty fries" craving – but it isn't all that cheap for the whole family to splurge at McD's.
That's where McDonalds deals, specials, and coupons come in!
We've broken down the types of coupons McDonalds offers, which ones are the best bang for your buck, and where you can find them.
Are there McDonalds Coupons?
Yes! McDonald's is well known for releasing many coupons that cover their very large menu, so there's something for everyone.
Large fast food companies will typically have coupons and specials to accompany a change in the season (like free drink days at the start of summer), a new product release, or a returning promotion (like when the McRib comes around).

The thing we like best about McDonalds coupons is that they give out both digital and printable ones, so you don't have to have to download an app to save money on those chicken nuggets you love so much.
How Do I Get McDonalds Coupons in Canada?
While the product offering may change slightly country to country, Mcdonalds coupons in Canada are just as frequent as in the USA.
There are several different popular coupon options available for Canadians: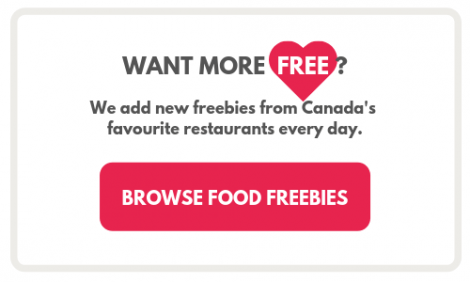 Where Can I Find Current McDonalds Coupons?
Some of us prefer to scan an app while others want to have the coupon in our hand as we wait in line. Whether you're tech savvy or old school, there's a McDonalds coupon out there for you.
1. McDonalds Printable Coupons
These are the most popular free McDonalds coupons and if you're lucky you'll get these mailed right to your mailbox!
Every few months, McDonald's releases a new package of mailer coupons that contain breakfast coupons, kids meal coupons, frappe and coffee coupons, and coupons for their most popular combos.

While the specific offers change with every new coupon release, the April 2019 McDonald's coupons are:

2 can dine for $11.78
1 can dine for $6.29
Buy one get one free Big Macs, McChicken, Quarter Pounder with Cheese
$4.39 breakfast combo
and many others…
Get the current McDonalds coupons here.
The current coupons expire February 2nd.
2. McDonalds Coupons Online
McDonald's also posts their coupons for free online for those who aren't on their mailing list. You simply need to:
Select your province.
Download your coupons.
McDonald's will accept them if you just show them on your phone, too.
If there are limited time specials like the Cadbury Creme Egg McFlurry for Spring, they are often included in the coupons as well.

3. My McD's App Offers
If you prefer to use your smart phone on the go, you'll also be able to earn rewards through the My McD's app.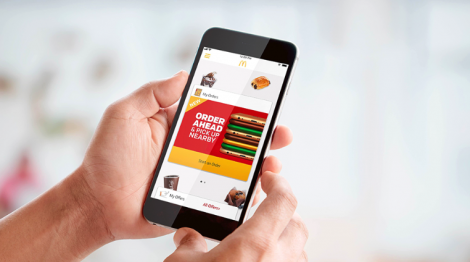 You can download the My McD's app for your smartphone and get access to new coupons and deals every week. The app also has special freebies only for app users.

The offers will vary based on your location in Canada, but they are usually for free fries or drinks with purchase, BOGO free food items, seasonal items like McFlurries, and some type of breakfast coupon.
You can check here for this week's My McD's app offers.
You can also do Mobile Ordering through the app and pick up your food in four different ways: curb-side delivery, table service, front counter pick up, or drive-thru.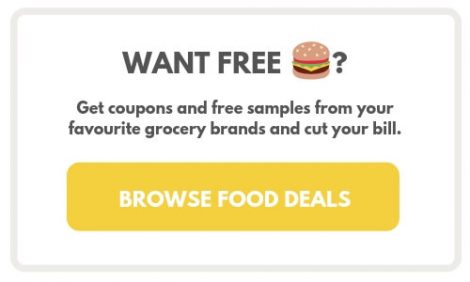 4. McCafe Rewards
Do you love McCafe coffee and testing out their other hot beverages?
Then this is the loyalty program for you! You'll get a free hot beverage for every 7 you purchase (for some of us caffeine lovers, that's a free coffee every week or so!)

There are two ways to collect rewards:

By Sticker: Start collecting points by purchasing any hot beverage and peeling the Rewards card off the cup. You'll get a sticker for every purchase you make and you can place them on the rewards card. After 7, you'll get a free drink.
Pssst…are you a Starbucks lover too?
If you're interested in the McCafe Rewards loyalty program, you'll want to check out the Starbucks Rewards app too. You can use it get your favourite iced coffees and spiced lattes for free!
Is there a McDonald's near me?
More than likely!
Find a location closest to you so you can redeem those McDonald's coupons for dinner tonight.
More Fast Food Coupons & Savings
Want more offers like McDonalds coupons?
We're the #1 stop for Canadians looking to save money at their favourite restaurants using coupons and free samples: