September 12, 2023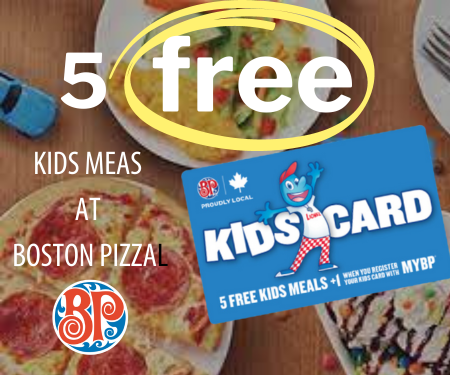 5 Free Kids Meals at Boston Pizza
Want to score 5 Free Kids Meals at Boston Pizza? Hey! I stumbled upon something awesome, and I couldn't wait to share it with you. It's not every day you come across a deal this good, let me tell you how you can get your hands on 5 free kids meals at Boston Pizza!
You donate $5 to the Boston Pizza Foundation, and in return, you receive a delightful treat. What's the treat, you ask? Well, it's 5 FREE kids meals! Can you believe it? You contribute to a great cause, and your little ones get to enjoy some delicious food.
Getting in on this deal is a piece of cake. You can purchase your kid's card either online or at the restaurant. But, here's the catch it's valid for dine-in only. So, plan a fun family outing to Boston Pizza, and let the kids indulge in their favorite meals.
Here's a little something extra for your generosity.

Register your Kids Card to your MyBP account, and guess what? You'll receive a 6th FREE Kids Meal! Once your Kids Card is safely tucked into your MyBP account, redeeming your kids' meals becomes a breeze. No need to fumble with paper coupons or worry about losing them. It's all right there, easily accessible through MyBP.
Don't wait too long to take advantage of this offer that is available to purchase until September 30th; it's too good to pass up. Plus, you'll be making a small contribution to the Boston Pizza Foundation Future Prospects, which is a heartwarming bonus.
Here's to tasty family outings and the joy of giving back, one delicious meal at a time!
Want more free stuff? Check out our Free Samples Page