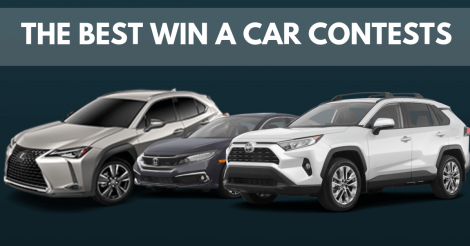 Few contests are more in demand than win a car contests Canada!
Luckily for our Free.ca members, there are some great free car contests happening throughout 2019.
We've got contests from:
There is also a great contest you can enter for the chance to win free gas for a year. Gas is expensive, imagine how much easier your life would be with free gas!
Keep reading to see the best Canadian car contests in 2019 and some tips on entering these contests.
Don't forget, we also have a post on the best baby contests in Canada!
Win A Car Canada: Contest Tips
There are some important tips you'll want to consider when entering these contests.
We vet all these contests we post on our site for legitimacy and entry requirements, however, if you find a contest on your own you'll want to pay attention to these tips.
The most legitimate contests are run directly from the car company (e.g. Toyota giving out a free Toyota vehicle)
Check to make sure you meet the minimum age requirements and that the contest is valid in your province/territory of residence.
Be sure to check for the expiry date and if the contest is daily entry.
Many win a car contests will require you to fill in some information about a car in their line you'd be interested in/be contacted by a dealership. You are under no obligation to test drive or purchase anything.
Win a 2019 Toyota Rav4 XSE Hybrid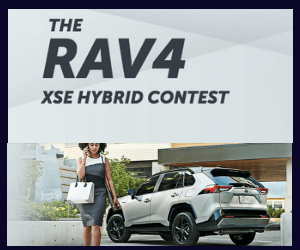 This is the only great contest to win a Toyota we've seen in 2019.
Toyota is giving away brand-new Toyota Rav4 XSE Hybrid and you could be the grand prize winner!
To enter, you'll need to provide your contact information on the entry form.

You'll need to also answer the questions about your car interests they ask you on the form.
Hurry and enter now, because this contest is ending on June 2nd.
Enter to Win a 2020 Lexus UX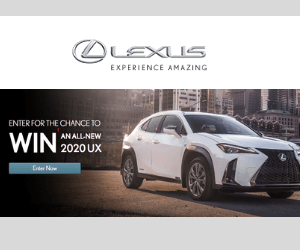 This is your chance to score a free luxury SUV! When it comes to the car contests on our site, this is the best of the best.
Lexus is giving out 1 free 2020 Lexus UX SUV worth $57,000 to one lucky winner.
Like the Toyota win a car contest, you'll need to fill in all your contact information and answer some questions on your potential interest in their vehicles.
This contest closes on December 31st, but why wait? Enter the contest for the chance to win this dream car today.
Win a Honda Civic Sedan Touring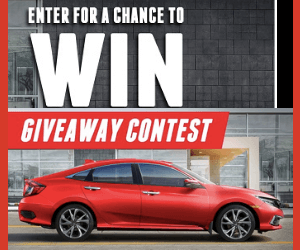 If SUVs aren't quite your thing, don't worry! Honda has got you covered with this awesome contest for the chance to win a brand new 2019 Honda Civic Sedan Touring.
Like the other contests, you'll need to fill in your information on the sign up form and answer all necessary questions. See more details on the offer page.
This contest also ends on December 31st.
Chrysler Contest: Win A Chrysler, Jeep, Dodge, RAM, or FIAT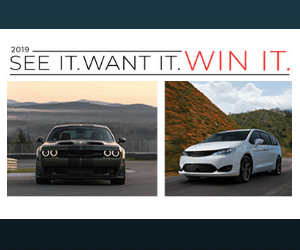 This win a car Canada contest is interesting because it actually gives you your choice of prize!
Chrysler is giving away $57,000 the lucky winner can use towards the purchase of a Chrysler, Jeep, Dodge, RAM, or Fiat vehicle.
Enter today for your chance to win before the contest ends on December 31st.
Which car would you pick if you were chosen? Let us know in the comments!
Free Chevrolet Vehicle Contest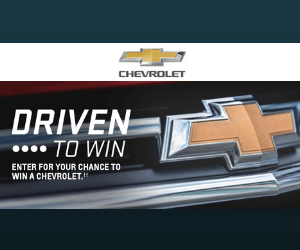 Enter the Chevrolet 2019 Driven To Win Contest for your chance to win a free Chevrolet vehicle worth $45,200.
Like the Chrysler contest, the winner will get to pick the vehicle of their choice worth that amount.
This contest is open until October 31st.
Win Free Gas For A Year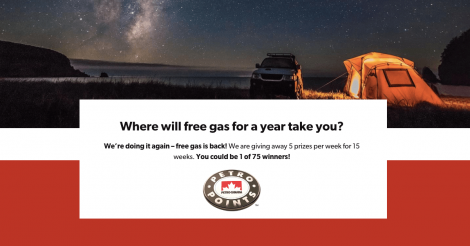 Petro-Canada is giving out free gas for a year! Think of how much money you could save if you didn't have to pay gas for a year.
Learn more and enter this contest today. Hurry – this contest closes on July 1st.
More Posts Like This
If you enjoyed these contests for the chance to win a car Canada, be sure to check out these other great offers on the site!