Welcome to the Sweepstakes Email List
November 16, 2015, BY Emma Craig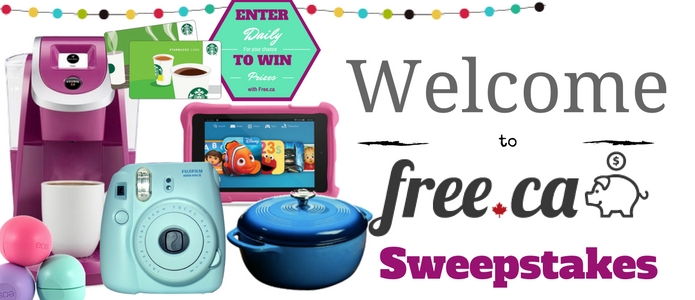 So you love to win great prizes? Well you have definitely come to the right place! By joining the
Sweepstakes email list
you will be the first to hear about contests to win amazing prizes. From big ticket items like home renovations, motorcycles and cars, to items that will make your day-to-day life easier like small appliances, cleaning products, and electronics, there are thousands of items given away every month to lucky fans such as yourself. We will direct you to contests hosted by your favourite
brands names
, as well as giveaways of our very own! Better your chances of winning by reading all the ways you can enter, such as social sign in, sharing with a friend or coming back every day to enter again.
Visit our contest main page
every day, as we will update it with all the latest and greatest chances to win.
Good Luck!
Here are some great contests to get your started.

Exclusive to the fans of Free.ca, this giveaway is always changing, featuring a new prize and a new winner.
Enter Daily Here

This sweepstakes can be pretty sweet!
Enter daily to win the featured prize.
Get In To Win

This contest has prizes that will fill you to the brim with happiness. Get your entry in for your chance to take home amazing prizes.
Fill It To The Brim

Who doesn't love a new pair of shoes! Enter the Shoesday giveaway for your chance to win a new pair of shoes.
Win Shoes

We all love to try things for free. Enter the free samples giveaway to take home your chance of free stuff.
Try It Free

Take a moment just for you. Enter with Beauty freebies for your chance to win a prize that is just focused on you!
Pamper Yourself

If savings on your mind, this prize should be also! Win a great prize that will really save you a bundle.
Savings Prize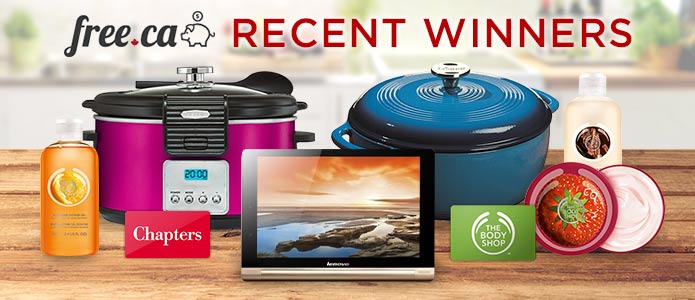 Want to know who wins these fantastic prizes? It could be you! Check out the winner's list and see who is taking home which prize. Keep checking back because we are always updating it with new names!
See The Winner's List