Update: PC Organics Strained Baby Food Recall
February 9, 2017, BY Emma Craig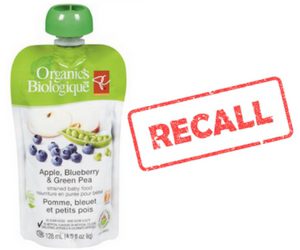 The Canadian Food Inspection Agency and Loblaws have issued a food recall warning for
PC Organics
strained baby food. The recall is due to potential dangerous bacteria contamination. If you have this product in your home, the CFIA advises that you throw it out immediately or return it to the store from which you bought it.
This recall now includes all PC Organics Brand Baby Food Pouches.
Visit the CFIA
website
for more details about this recall included all the UPC codes included.