Get Organized in 2017
January 4, 2017, BY Emma Craig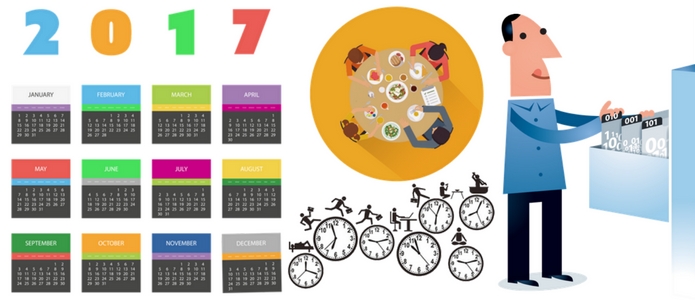 Where was that appointment card? I think there is a field trip on Friday and I am meeting a friend for coffee on Tuesday. Where did I leave those gloves? If it feels like you're constantly living in chaos and have decided that this is the year you will get back on track and finally get organized, look no further! From sorting your spice drawer to writing down important dates, improve the ease of your life and have your household run like a well-oiled machine.
Get a Calendar or Agenda Book
Write down those important dates, social gatherings, assignments, appointments, bill due dates and more. If you're like me and want to be hyper organized, get multiple date-keepers. One for your bill due dates, one for your social life and appointments that you keep on the fridge and something completely separate for work. You can always use the calendar on your phone to set yourself reminders, where it will alert you so you don't forget where you need to be. Get a Free Printable Calendar from
Time And Date
and
Print a Calendar
Get Rid of Things You Don't Need
Don't wait for Spring to do some cleaning. From clothes to kitchen gadgets, the more you have in your home, the less organized you will generally be.
Keep only what you actually use, not what you may use in the future, or something you are keeping "just in case". Stuff can accumulate really quickly and if you have only what you need, it will all have a place in your home. When you are getting ready to clean out a drawer or a room, start by emptying all the contents. Then separate things into 3 piles: Throw Away, Keep and Donate. From there you can clean, dust and vacuum the space. Then consider which items you would need to access more often and make sure they are in the most logical place when you put everything back. You can apply this method to a space as small as a hallway drawer or as large as a garage.
Establish a Routine
This is the easiest way to make sure you aren't forgetting to let the dog out in the morning. Have a plan and stick to it, everything will get done and you will be on autopilot in the mornings when you could use more sleep.
Make a Meal Plan
This is the best way to make sure you are eating balanced food throughout your week and that you aren't having to make last minute trips to the grocery store right before dinner. Write out a meal plan at the beginning of the week, planning your portions for your lunches so you don't have to worry about what you're going to eat. This way you will only make what you need and you won't have leftovers rotting in the back of your fridge.
Print Your Weekly Menu Planner Here