David's Tea Frequent Steeper Program: How Do I Get Free Tea?
May 30, 2019, BY Emma Craig
Do you love to curl up with your favourite flavour of loose leaf in an adorably cheeky mug? Then you might be a David's Tea Frequent Steeper.
What is a David's Tea Frequent Steeper?
David's Tea quickly won their way into the hearts and mugs of Canadians with their massive selection of loose leaf tea, bright store displays, and trendy tea accessories.
More than 10 years later the tea-drinking craze is still brewing strong, but it's their freebie-packed loyalty program that really keeps us coming back.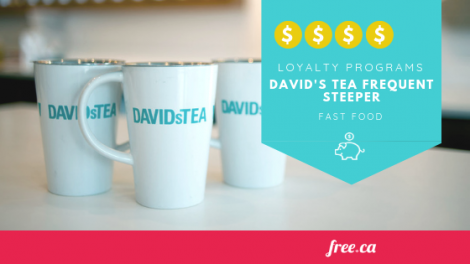 Not sure how to make the most of your membership? Keep reading to find out how to claim your free tea all year long and other frequently asked questions about the David's Tea Frequent Steeper program:
What rewards do David's Tea Frequent Steeper Members get?
The main perk of the loyalty program is the points you earn on every purchase that can be redeemed for a cup of tea, loose leaf tea packages, gift sets, or mugs. There are also special days and freebies like:
Free 50 g pack of loose leaf tea when you sign up to be a David's Tea Frequent Steeper
1 free cup of tea for every 10 cups purchased in store
Exclusive information on new promotions and sales
and Invites to contests and specialty days that may apply: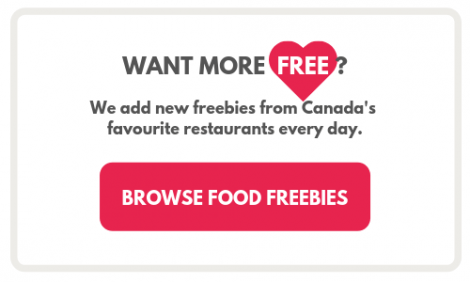 How do the points work?
Like Starbucks and Sephora, members in the David's Tea Frequent Steeper program earn points on purchases that they can redeem for free tea.

Here's the breakdown as provided by David's Tea: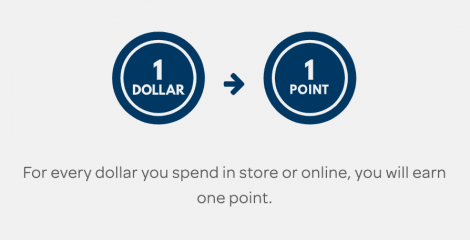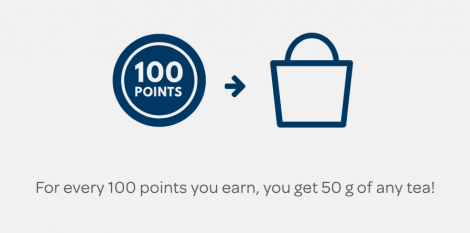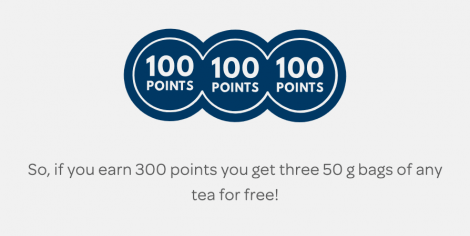 The free reward will appear in your account within 24 hours of hitting 100 points.
It's important to know that you'll only have 60 days to redeem your free reward, so don't forget!
You can redeem rewards in-store or online with a physical card or without, your choice.
Points will only expire after 12 months without a purchase or reward redemption.
Bonus: they are offering 2x the frequent steeper points all summer long!
Is anything not included?
There is a bit of a downside to this tea-drinkers dream – the program has a few important exclusions:
While you earn 1 point for every dollar spent online or in-store, this does not apply to gift card purchases. For example, if you purchase a $20 gift card, you will not get any Steeper points.
If you do not live near a retail store and need to claim your rewards online, you will have to pay for shipping.
You can select 50 g of any loose leaf tea to redeem as your rewards except for select matcha teas: Ceremonial Matcha and Organic Ceremonial Matcha.
How do I sign up?
Signing up for the David's Tea frequent steeper program is super easy. You can sign up online using their registration form. All you need to provide is:
Your full name
Email address
Birthday (the year is not required)
You'll also need to create a password for logging in to your account and activate it through their email confirmation (otherwise you won't earn any points!) Some members also choose to use the physical card, but you don't need it to get the points – just your email.

You can also sign up for the loyalty program at any David's Tea store.

Simply give them your email address and that will be your new account ID.
How do I earn points?
Once you've successfully signed up, you'll start earning points two ways:
Shopping online through your account
Making purchases in-store and providing your email address to the cashier as your account ID
Remember that gift cards DO NOT COUNT towards points and there are some limitations to what you can redeem (tea, gift sets, and mugs are usually safe choices).
Once you earn enough points to hit the VIP tier, aka $400 within 12 months, you become a Super Steeper and unlock a whole new bunch of tea-loving perks:
Exclusive free tea samples
Access to ultra-limited tea launches
Exclusive swag
VIP event invitations
Just be aware that if you don't hit that $400 mark each year, you'll be bumped back down to Frequent Steeper status.
How do we rate the David's Tea Frequent Steeper loyalty program?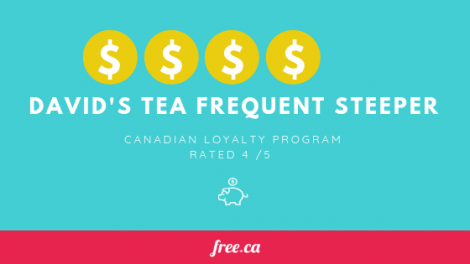 Free.ca Rating: 4 / 5

Why This Rating?

We give the David's Tea Frequent Steeper loyalty program a 4 out of 5 because it has lots of opportunity to claim rewards, includes a birthday freebie, has welcome freebies to give value right away, and it's simple to earn and redeem points.
Where did they lose the star?
Some members are not a fan of the 60 day reward redemption rule because they find they don't drink enough loose leaf tea to keep up with their rewards. Another common complaint is that points cannot be earned on gift cards, which limits gifting possibilities for some of us.

So what's the verdict?
If you love to drink David's Tea and test new flavours, you'll love the program. You get a free 50 g of tea for every $100 you spend, and while $100 might seem like a lot, add together the price of large tea packs, mugs, and steepers, and it's pretty easy to get there.

Looking for more loyalty programs Canadians love? Check out how we've ranked some of our favourites: