Canadian Treats Americans Are Missing Out On
January 20, 2017, BY Emma Craig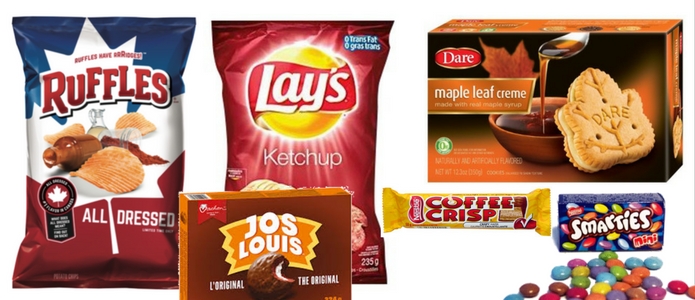 We always talk about how we'd love to have a Krispy Kreme shop closer or would love to stop by a Dunkin Donuts for a coffee, but did you ever think of all the Canadian treats Americans don't have access to? From Nanaimo bars to poutine and maple-flavoured everything, some of our snack food has Americans adding Canada to their travel list for 2017. See how many of the Canadian favourites top your list.
Dare Cookies Maple Leaf Creme
What could be more Canadian than a maple cookie shaped like a maple leaf?
Lays Ketchup Chips
In Canada you know Ketchup isn't just a condiment. When you find red dust all over the keyboard, you know why.
Ruffles All Dressed Potato Chips
What exactly is in an All Dressed Chip? It doesn't matter. These things are delicious!
Nestlé Coffee Crisp Bar
Take your mocha out of the mug and enjoy the great taste of coffee and chocolate in this delicious candy bar.
Nestlé Smarties
People in the U.S.
know Smarties as what we call rockets. Smarties are way better. They're more colourful, full of chocolate and bigger than M&M's.
Hostess Hickory Sticks Original
What could be better than potato chips in stick form. Especially with the delicious bacon hickory flavour. Eat up!
Vachon The Original Jos Louis Cakes
What could be better than chocolate cake you don't have to bake? Sink your teeth into these delicious treats.