Best Credit Cards Canada: Which Is Right For You?
February 25, 2019, BY Emma Craig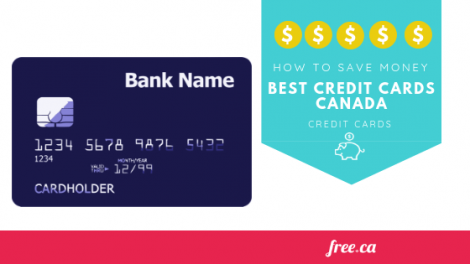 Read our guide of the best credit cards Canada to find which option is right for you. Browse different options and find the right fit for your needs.
Best Credit Cards Canada
Credit cards can be a blessing and a curse. While they help you build credit and earn valuable points, they can also have extremely high fees, interest rates, and not all that many benefits.

Also, what might be the best credit cards for one person, may be totally wrong for another.

It's often easiest for most people to apply for a card through their bank. This can be due to convenience and even multi-product rebates.

The real question comes down to what you plan on using your credit card for? Do you want cash back, travel points, rewards points? Or do you just need a card to build/repair credit?

If you want to earn as many rewards as possible, maybe go with a card with an annual fee that gives cash bonuses on purchases. For a card mainly to make everyday purchases, maybe get a card with no annual fee but no rewards.
Learn more about credit cards by checking out our blog post on how to save money on your credit cards.
Compare Credit Cards Canada
While we get into other specific credit card types/needs later in the article, this section looks at the best "overall" cards.

This chart breaks down some of the most popular credit cards of the year and compares their card type, annual fees, and special card features.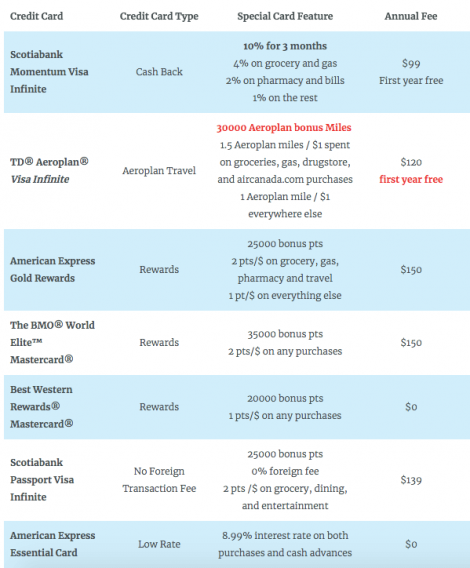 Credit Cards For Bad Credit Canada
If your credit is less than stellar, and you're looking to build credit, there are some great card options for you.

The Scotiabank No-Fee Value VISA card is available for those with credit issues, has an introductory rate of 3.99 percent, and even offers car discounts.

The introductory rate applies to balance transfers and cash advances, so it's a good choice if you plan to transfer high-interest balances to a low-interest card. Plus, the rate helps borrowers pay down existing balances faster and help get rid of debt.

The card has an annual fee of $0 and interest rate of 16.99 percent after the introductory rate concludes. You must have a minimum gross income of $12,000 to be approved.

Another option recommended by Life On Credit is the Capital One Guaranteed Secured MasterCard. This card features a guaranteed approval rate, and the minimum limit is only $300. However, The interest rate is 19.8% and has an annual fee of $59.
Prepaid Credit Card Canada
What are prepaid credit cards? Put simply, these are cards you load funds onto ahead of time. You can easily reload money as often as you like and can use it for groceries, online shopping, gas, and more.
VISA even suggests providing these cards to your children as an easy way to give them their allowance, teach them how to save money.
Browse and learn more about these cards here.

Best Cash Back Credit Card Canada
According to the Greedy Rates comparison, the Scotiabank Momentum VISA Infinite is the best card for cash back bonuses. The card offers 4% cashback on grocery purchases, 2% on pharmacy and bill payments, and 1% back on everything else.
Learn More
Are you interested in finding more ways to save money? Check out these other tips: