October 18, 2023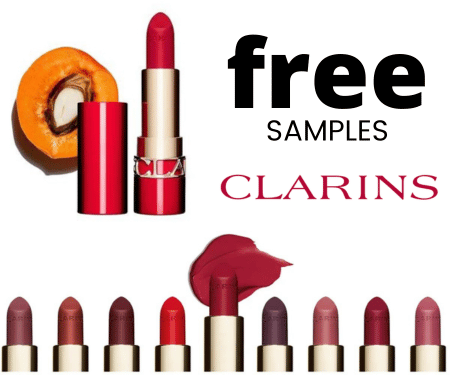 Free Clarins Joli Rouge Lipstick Sample
How to Grab Your Free Clarins Joli Rouge Lipstick Sample
I've got some exciting news to share with you today, and it's all about a fantastic freebie that's currently making waves on social media. Imagine getting your hands on some free Clarins' Joli Rouge lipstick, a product known for its lip-loving formula and vibrant shades. Here's how you can snag this freebie while supplies last.
The journey begins with a simple click – head over to Clarins' Facebook and Instagram pages and hit that "Like" and "Follow" button. By doing this, you'll stay connected with the brand and be the first to know about exciting offers. Next, show some love to Clarins by engaging with their content. Like their recent posts, watch their videos or stories, and leave thoughtful comments. This not only helps you stay in the loop but also shows your enthusiasm for their products.
Use the Facebook or Instagram search bar to find Clarins' new Refillable Lipstick products. It's a fantastic way to get familiar with the latest additions to their lipstick range. Knowledge is power, and it's also a way to increase your chances of getting that coveted sample. Finally, take a virtual trip to the Clarins website and explore their range of lipsticks and other beauty goodies. Familiarize yourself with their offerings, and who knows, you might discover your next favorite beauty product while you're at it!
Now, here's the exciting part – once you've completed these steps, keep your eyes peeled on your Facebook and Instagram feeds.

Clarins will be sharing an ad that looks like the screenshot below, and that's your cue to claim your free Joli Rouge lipstick sample.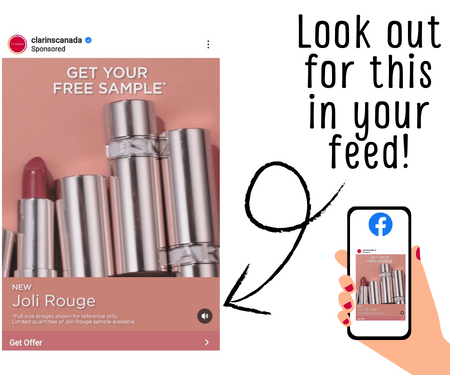 We want to stress that this isn't an advertisement; it's a friendly guide to help you navigate the process of getting a fantastic beauty sample. Clarins is all about enhancing your beauty experience, and this freebie is a testament to that commitment.
Want more free stuff? Check out our Free Samples Page
Found a direct link, see below:
Remember, it's all about celebrating beauty and sharing great finds with fellow enthusiasts. Enjoy your journey to free lipstick perfection! 😊