September 19, 2023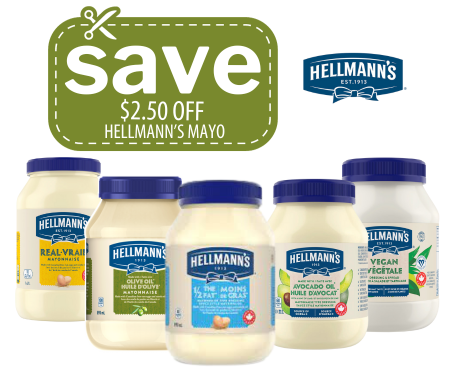 Save $2.50 on Hellmann's Mayo
How to Get and Save With the $2.50 Hellmann's Mayo Coupon
Are you a fan of Hellmann's mayo and looking for a way to save on your next purchase? You're in luck because I've discovered a fantastic $2.50 coupon that you can use when you buy 2 Hellmann's mayo bottles of 710ml or 890ml. I'll guide you through the simple process of obtaining and using this money-saving coupon.
Acquiring this valuable coupon is easier than you might think. Click to find the coupon for $2.50 off when you purchase 2 bottles of 710ml or 890ml mayo. Click on the coupon to select it. Follow the on-screen instructions to print the coupon. Make sure your printer is ready to go!
Now that you have your coupon in hand, it's time to put it to good use. Visit your preferred grocery store or retailer where Hellmann's mayo is sold. Select two bottles of Hellmann's mayo with a size of 710ml or 890ml. Ensure they match the coupon's requirements. Head to the checkout counter with your mayo and coupon.

Present the coupon to the cashier while paying for your purchase, and that's it, enjoy the satisfaction of saving $2.50!
Saving on your Hellmann's mayo purchase is a simple and rewarding process when you have the right coupon in hand. By following these easy steps, you can enjoy the deliciousness of Hellmann's mayo while keeping some extra cash in your wallet. Happy shopping and saving!
And there you have it—a concise and informative guide on obtaining and using the coupon to save $2.50. Enjoy your savings on this kitchen staple!
Want more free stuff? Check out our Free Samples Page