August 17, 2023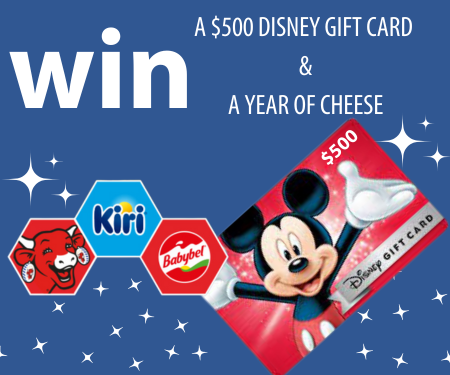 Win a $500 Disney Gift Card and a Year of Cheese
Win big with a year of cheese and a $500 Disney Gift Card! Hey, I stumbled upon something too good not to share with you. Imagine winning a year's supply of cheese and a $500 Disney gift card, and guess what? You can be a part of it too! This is not your average giveaway; it's a chance to sprinkle some extra magic into your life. Let me tell you how to dive into this fantastic opportunity.
You're about to enter a contest that could have you walking away with some seriously incredible prizes. I'm talking about 1 of 15 chances to score a $500 Disney gift card, and if that's not exciting enough, you also get a whole year of free cheese products. Yes, you heard me right, a year of cheese bliss!
You enter the contest, and if luck is on your side, you could be one of the fifteen lucky winners. Each prize is a Disney gift card worth a whopping $500 and a year's worth of free cheese products. Can you imagine the possibilities?
With that Disney gift card, you're in for a treat. Think about all the enchanting goodies you could snag from shopdisney.com.

Whether you're a fan of classic characters or new favorites, this card is your passport to the world of Disney merchandise. A chance to bring a touch of magic into your everyday life, who could say no to that?
But wait! Picture yourself enjoying a year of mouthwatering cheese products. From creamy cheddar to velvety mozzarella, your taste buds are in for a delightful adventure. It's like a cheesy dream come true.
Now, let's get real for a moment. This contest isn't just about dreams; it's about seizing an opportunity. Your chance of winning is as real as it gets. Fifteen prizes are up for grabs, and together, they add up to a whopping total retail value of over $15,000.
So, what are you waiting for? Take the leap and enter this contest. Imagine the smiles a Disney gift card could bring, paired with the cheesy joy of a year's supply of deliciousness. Don't let this chance slip through your fingers. Let's dive into the magic together!
Want more free stuff? Check out our Free Samples Page