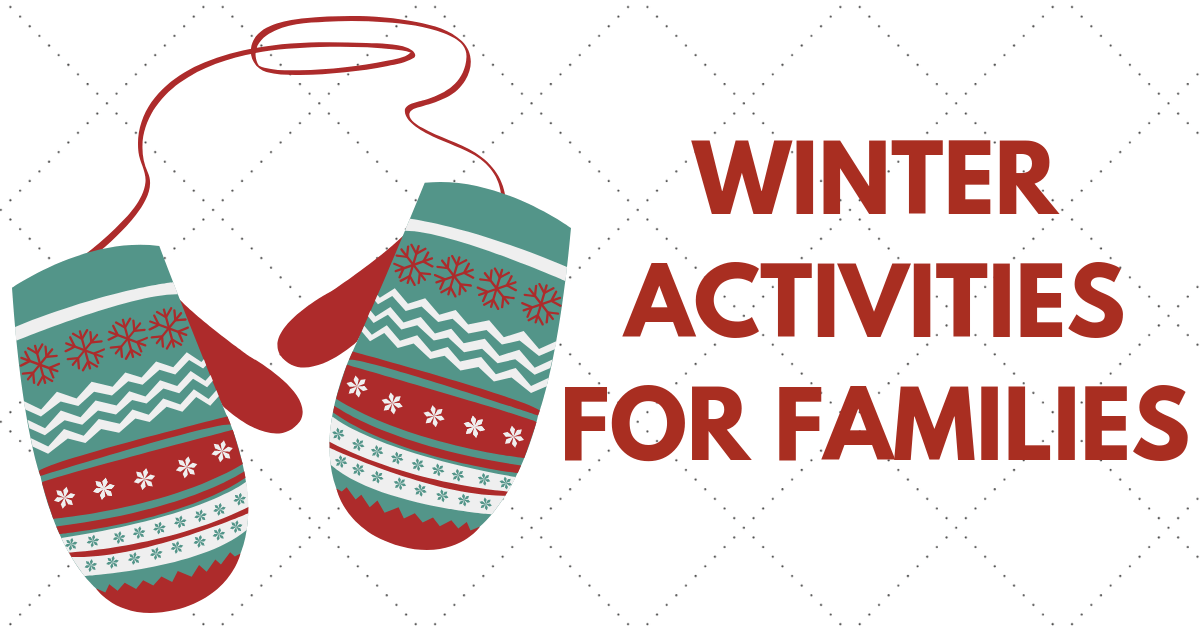 It's already January, which means that whether you like it or not, that cold winter weather is here to stay. It's time to say goodbye to beautiful fall leaves and hello to scraping your car, cold winter nights, and shorter days.
Here in Canada, we truly get some intense winter weather that can very often feel like it's dragging off for years instead of months!
Don't spend all your weekends, holidays, and snow days in despair – take advantage of winter weather while it's here. When you think about it, as Canadians we are truly lucky to get all 4 seasons.
There are plenty of indoor and outdoor winter activities for kids that you can try this year with your family that will make your winter fun and memorable. The best part? Most of these ideas won't cost you a cent!
Indoor Activities:
Movie Night
: Since the sun goes away around 4:30 pm in the dead of winter, take advantage of the darker nights and have some movie nights! My family did this every Sunday evening in the winter, complete with fresh homemade popcorn and hot cocoa! You can browse titles on Netflix or catch some classics on cable.
With the upcoming holiday season soon upon us, streaming services and cable stations alike will be playing classic holiday movies and specials!
Game Night
: If your kids are a little too active for a relaxing movie night, try a family game night instead! You can easily and affordably find board games for the entire family online or in stores.
Bonus Idea
: Make your game nights extra-fun by making your own board games! You can make them with construction paper, cardboard, glue, and markers. Not only is this a fun family activity, but it also allows your kids to play creatively and practice their planning skills. The kids can make a new game every week and you can all play it together as a family!
Winter Crafts
: Is it truly wintertime if you don't make paper snowflakes with the kids? This classic craft is a winter must! Crafts are easy, cheap, and have just about unlimited potential. For cheap craft supplies, all you really need are some coloured construction paper, glue, markers, and glitter – which can all be found at the dollar store.
Bonus Idea
: If your kids are older and/or not very interested in crafting, get some higher-quality canvas and paint so they can paint instead of craft.
Baking
: This is a super fun and cozy activity, and is actually more educational than you may have thought. When you bake with your kids, it teaches them how to follow instructions (from the recipes), and basic math skills while they measure ingredients. Check our Blog for great dessert recipes.
Go Bowling
: Bowling is a great indoor activity that kids of all ages love, and it's an awesome way to avoid the cold weather outside. This is a relatively affordable activity and if your local bowling alley offers "cosmic bowling", it will really excite the kids.
Outdoor Activities:
Go Skating
: One of my family's favourite things to do in the winter was always skating. This is such a fun, and truly Canadian, activity. Plus, skating is great exercise and gets the kids up and moving. Depending on where you live, you may have some communal outdoor skating rinks or safe lakes/ponds to skate on. Of course, you should only ever skate on ponds, lakes, or rivers, that are completely frozen and have been deemed safe by your municipality.
Bonus Idea
: If you're not too outdoorsy, you can skate at public skating rinks at local arenas. Most will have a designated public skate time on weekends/holidays and are often free.
Go Sledding
: Kids love sledding, and so do some adults! Depending on your child's age, they can sled on a small sled in your backyard or on bigger hills at local parks or tobogganing hills. Most urban areas have tobogganing hills where families can go have some fun. This is a fun and free winter activity. Not that into sledding? Some ski hills will offer tubing where you can tube down larger and more exciting hills.
Do Some Snow Construction
: Do you want to build a snowman? How about a snow fort instead? Get the kids in their snowsuits and send them outside to build a snowman, snow forts, and just about anything else they can come up with! Can't you just remember spending hours outside playing in the snow? Your kids can now have that same fun!
Try A New Winter Sport
: Trying a new sport is a great way for your family to spend some quality time together while enjoying the winter weather. Your family will be getting active and having fun together, what more could you ask for? If your family has never skied, go skiing! If you've never snowshoed, go snowshoeing!
Do you have any other great winter activities for families? Share them with us in the comments below!