Halloween Craft Ideas for the Whole Family
October 28, 2013, BY Emma Craig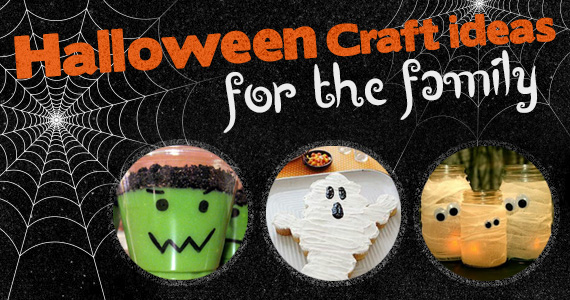 Halloween is a great time of year to get the family together and craft some fun decorations for the house. From ghostly decorations to ghastly creations, there are a ton of ideas out there that are quick and easy Halloween crafts that will be loads of fun for everyone!

Halloween Garland
Halloween garland is probably one of the most enjoyable crafts that kids of any ages will have fun making. Using strips of decorative paper make interlocking rings to create a long strand of garland that you can hang around doors, on railings and along walls. Get creative and use alternating colours of black and orange for the spirit of the season! You can use construction paper or even scrapbooking paper to make this fantastic decoration.

Snackable Skeleton Bones
Get creative in the kitchen with this fun activity that the kids will love! Coat pretzels in melted white chocolate and have the kids put mini marshmallows on the end of the dipped sticks to make a bowl of bones to snack on.

Ghostly Gallons
These homemade lanterns will greet trick-or-treaters with a freakishly fun face that is super simple to make. Use an empty milk jug and draw a fun face on it with permanent marker. Inside place a flameless candle or holiday lights to make the jug glow!

Jar Mummies
Use empty sauce jars or mason jars to make spooky mummy decorations for Halloween. Wrap tissue paper or white fabric around the jar to look like bandages and stick two googly eyes to the front to be eyes. Use a candle or flameless candle inside to make the jar glow.

Franken-Pudding
Draw eyes and a mouth on clear cups. Make vanilla pudding as per the instructions on the box and add green food colouring to it. Fill up the cups with the pudding and use crushed Oreos on top for hair. A frightening delicious dessert to enjoy after dinner for the whole family!

Ghost Pull-Apart Cupcakes
Get into the spirit of Halloween by making Pull-Apart Cupcakes in the shape of a ghost. Make your favourite cupcakes and once they are baked and ready to be iced, place them in the shape of a ghost and ice them together. Don't forget to add a couple of eyes and volia! Just pull each cupcake off the ghost when you are ready to enjoy!

Closet Monsters
Use wire hangers and craft construction paper on them to cover everything but the hanger top. Then cut out fun eyes, eye brows and mouths out of colourful construction paper and stick then to the coat hanger so that you can see the face when you hang up your coat or shirt.

Sticky Spiders
Decorate your window with these colourful spiders that are easy for your whole family to make. Use craft wire to make four pairs of legs. Attach a piece of plastic wrap to cardboard and squeeze dimensional fabric paint over the wires to form a body. Let the pain dry for at least 24 hours before peeling off the spider from the plastic. Use black dimensional fabric paint to draw lines from the corner of the window to make the web. When the paint is dry, stick the spider to the window. Don't forget to save on all your crafting supplies with great
Michael's coupons.
What is your favourite Halloween craft idea to make with your family?