Best 7 Layer Party Dip!
November 7, 2018, BY Emma Craig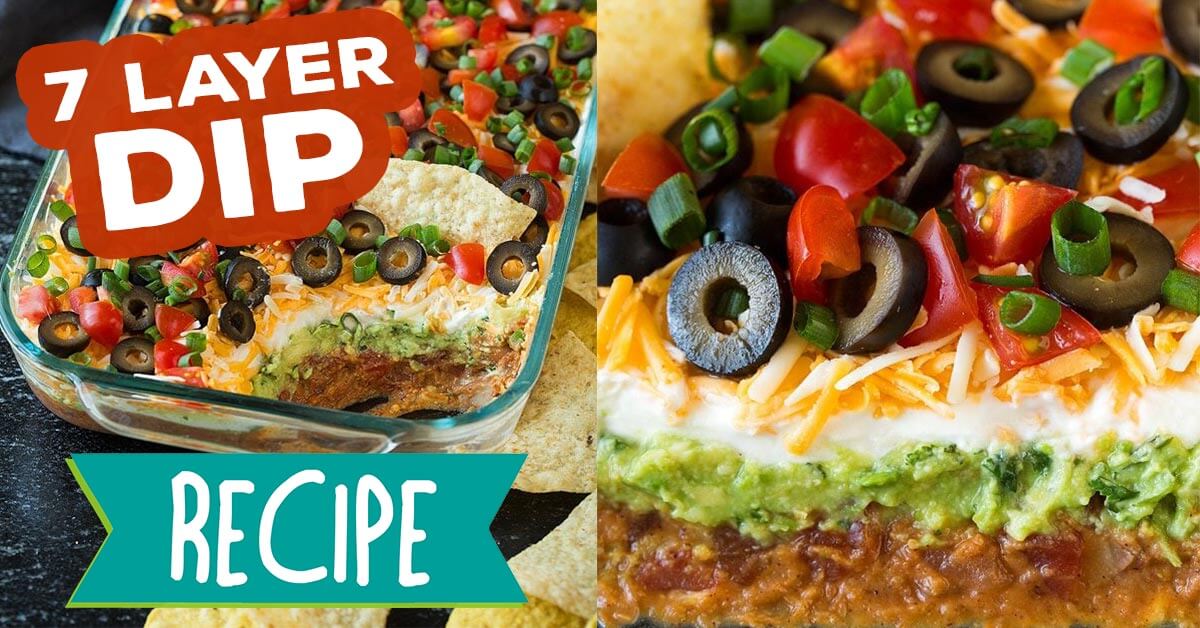 If you're hosting a party anytime soon, you're gonna want to make this amazing 7-layer dip. This crowd-pleasing dip is easy to make and tastes great.
Ingredients
1 (16 oz) can  Refried Beans
1 (10 oz) can Diced Tomatoes & Green Chilies, drained
2 tsp chili powder
3/4 tsp ground cumin
1/2 tsp garlic powder , divided
Salt and freshlyavocados,ack pepper
3 medium avocados , peeled and cored
1 1/2 Tbsp fresh lime juice
1/4 cup chopped fresh cilantro
12 oz . sour cream
1/2 (6 oz can) black olives, sliced
2 small Roma tomatoes , diced
1 3/4 cups finely shredded cheddar and Monterey jack cheese blend
1/3 cup sliced green onions
Instructions
In a medium mixing bowl stir together refried beans, canned tomatoes, chili powder, cumin, 1/4 tsp garlic powder and season with salt and pepper to taste (about 1/2 tsp salt/ 1/4 tsp pepper). Spread mixture into an even layer in 7 by 11-inch baking dish.
Mash avocado with lime juice. Mix in cilantro and season with remaining 1/4 tsp garlic powder and salt to taste.
Spread into an even layer over the bean layer in baking dish, then spread sour cream over avocado layer. Sprinkle with cheese, black olives over sour cream layer then top with tomatoes and green onions. Serve with tortillas chips.
Dip can be made a day in advance, just cover and refrigerate until ready to serve.
Originally posted on
Freebies.com